March 18th, 2009 Posted in
Latest News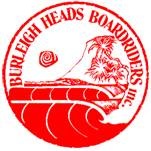 Father of our life member Allan Dick passed from this world last Friday. Allan Dick Senior was a proud supporter of the Burleigh Heads Boardriders, and a former Patron of the club
We wish the Dick family all the best at this sad time and as one are there to support the family.
For those who can attend there will be a wake Allan Dick Senior at the North Burleigh SLSC from 6pm Wednesday night.
The family invites all friends of the family to attend and have a drink in honour of Allan Dick Senior.