January 1st, 2009 Posted in
Latest News
Once again the world famous point break of Burleigh Heads will be the venue for the 2008 Honolua Burleigh Boardriders Single Fin Classic. The event is now one of the most prized on the surfing calendar, soul surfing on boards over 23 years old, some 30 years or older. Real surfing, back to the days where getting your board and going surfing somewhere with your mates was the dream tour, not contests and prize money.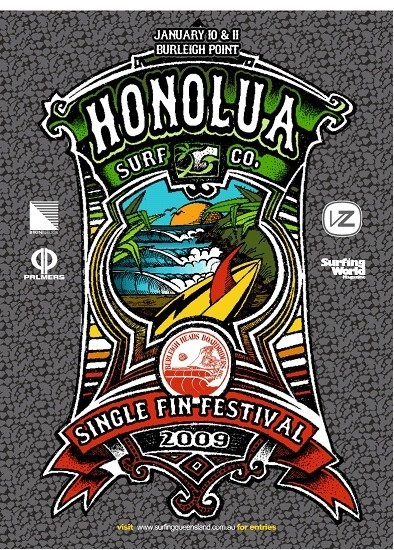 The 3 day festival starts on Friday with the legendary Burleigh Boardriders Charity Luncheon, to be held at Burleigh Bears Leagues Club, guests speakers include NRL legend Craig Wing, World Champion long distance open ocean paddler Jamie Mitchell, Channel 9 celebrity chef Pete Evans, and WCT surfer Bede Durbidge. The lunch is to be hosted by legendary funnyman Freddo Lang, who will have plenty of stories from his tour of Iraq with Angry Anderson and Tania Zannetti. Gold Coast WCT surfers will also be in attendance, plus a host of former World Tour Pros from the single fin era. A giant photography & sport memorabilia auction will also be held, charities include the NSW Down Syndrome Association and Burleigh Boardriders Junior Development.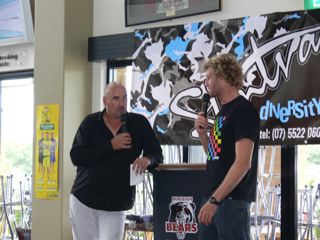 Freddo Lang interviews Bottle at last years luncheon 
The surfing action kicks off on Saturday and surfers from all over the East Coast of Australia will be cleaning off the dust from their pre-1985 single fin surfboards from under houses or the back shed to compete for the glory of being crowned the 2009 champion.
Surfers can only surf antique "Old School" single fin surfboards made before 1985, and the weekend will see many stories from the good old days swapped amongst those at Burleigh Point. The collection of the old single fins is like a museum display, onlookers always keen to check out the many old and varied surfboards from a bygone era. Each year thousands line Burleigh Point each year to watch the action, classic surfing on classic boards from a bygone era, almost like a flashback to the legendary Stubbies Classic.
Defending Champion Rique Smith will be out to defend his title won in 2008, and once again surfing a board made by his late father, Col Smith. The Col Smith and Alan Byrne channel bottom design are some of the boards most cherished by surfers in the event. Other favourites are the old Dick van Straalen boards, and some of those boards surfed in the event were owned by late Burleigh legends Joe Engel and Mick Murphy.
2007 champion and local lad Jay "Bottle" Thompson started off a great 2007, winning the Honolua Single Fin Classic at his home break, and started the roll that saw him qualify for the 2008 World Championship Tour. The competitor's list is a who's who of surfing; Gary "Kong" Elkerton, Cheyne Horan, 2007 World Champ Mick Fanning, Bede Durbidge, Mark Ochilupo, Brenden Margison, Wayne "Rabbit" Bartholomew, Dave Rastovich, and many others regular competitors in the Honolua Single Fin Classic. Put these surfers against a field of hard core Burleigh locals and many others and you have a weekend of classic surfing on genuine antique surfboards.
The Burleigh Boardriders Single Fin Charity Luncheon tickets are $100 per person and include food and refreshments and are once again in high demand with only several tables remaining. Tickets for the luncheon are available from Burleigh Bears Leagues Club, or Burleigh Boardriders Vice President Ash Humphries by calling 0439762018, or Club president Edward Lindores, on 0413 757 551
Entries to the Honolua Burleigh Boardriders Single Fin Classic just click on this link
 entry-form-single-fin-2009.pdf
For more information:
Media
Terry "Tappa" Teece
Mobile: 0419-681-804
Event Details and Luncheon Tickets
Ash "Champ" Humphries
Contest Director
0439762018
Edward Lindores
President Burleigh Boardriders
0413 757 551
www.burleighboardriders.com