October 7th, 2008 Posted in
Latest News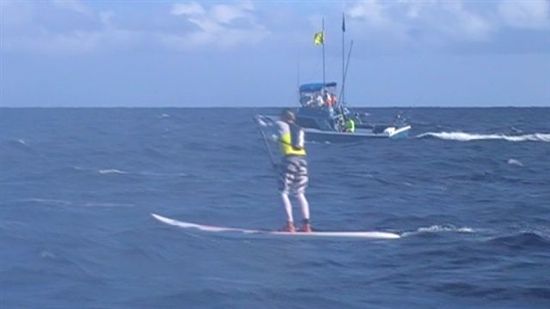 I've arrived at Brisbane Airport Sunday 13th July on my way bound for the beautiful island of Maui for 3 SUP races & all of a sudden who should I bump into but Nathan Henderson carrying his 18ft paddleboard to the oversize baggage chute. It was an amazing & entertaining sight watching Nathan & the baggage handlers trying to put this 18ft paddleboard into the oversize chute. After which I asked Nathan "what time's your flight? He said Air Pacific 12:25pm", I said "sweet I'm Air Zealand 12:25pm I'll race you to Honolulu" & off we went. I had a 3 hour stopover in New Zealand due to the plane being late so I'm stressing thinking Nathan's got a good start. I've arrived at Honolulu & beat Hendo by 6 hours stoked.
After 24 hours of travelling & numerous liquid refreshments I've arrived in Maui I'm JOJ (just of the jet). Got met at the airport with my new F-16 SUP got driven straight to the starting line for the Naish International Paddleboard Championships 15.5kms & away we go. I had my GPS watch set at 20kms/hr & it was going off telling me to slow down. I was catching some amazing runners, on one runner it was a solid 4ft ocean swell & I was a bit too slow to run to the back of my board (jet lag) & nose dived my 16fter. I got flogged & as I was coming up for air I nearly got my head taken off by another SUP. I couldn't stop laughing I was having so much fun & with 113 SUP's & only 66 Paddle boarders there was a lot of traffic having the full paddle battle + it was unreal to paddle against other F-16's which made up 90% of the field. Not only that there's a mine field out there – turtles some are mutant as big as the bonnet of your car, you're on a runner & the turtle will appear out of nowhere if you hit a turtle it will rip your fin out or break your board in half. I did the race in 92 minutes & was a bit disappointed as I wanted to do that race in under 90 minutes. but hey I'm JOJ full of jet lag & I ended up coming 29th out of 113 SUP's, even got smashed by two gorgeous Maui sheilas, I had to laugh.
Results:
1st Jamie Mitchell 73 minutes
1st Mick DiBetta 79 minutes
2nd Dean Hanmer 85 minutes
1st Shakira Westdrop 88 minutes
29th Phil Gregory 92 minutes
While on Maui I watched the sunrise above the cloud level from Haleakala crater 10,000ft followed by a 30mile downhill pushbike ride. All you could hear was the rubbing of the brake pads against the rim of the tyres because you were going that fast. After that it was time for another down wind Maliko Gulch SUP paddle. Conditions were pumping 25 knot NE winds 4ft ocean swells I'm thinking I'd better set my GPS watch at 25kms/hr & again it was going ballistic telling me to slow down I was catching some amazing runners. Over there you're not paddling in balance stance mode you're fully paddling in surf stance mode, you feel the tail of your board starting to lift you're in the trough so its just tap tap tap & away you go you're running up & down this big 16ft SUP surfing it like it's a Malibu surfboard. Standing as far back as you can you can feel the double concave come into play & you're surfing from rail to rail for 200 metres, tap tap tap another runner for 200 metres. Now & then you've got to put your paddle in the water just to stop you from falling off you're going that fast, having the biggest grin on my face – how good is this stoked. All of a sudden this mutant turtle appeared out of nowhere I s### myself, I've hit its back webbed feet & the turtle's taken off & I've managed to stay on the runner stoked. Hanging with Mark Raaphorst the inventor of the F-16 was truly amazing. Watching him surf the F-16 down wind he is that good he is king. The next day Maliko Gulch just keeps getting better 30 knot winds – I'm flying out there just surfing. The wind is that strong not only do I have the mutant turtles to deal with I've now got the windsurfers to collide with after hearing some of the stories from the Maui locals (heavy collisions) I just gave way & it's so hard when you're surfing down wind going that fast to give way. It is that good I did 3 Maliko runs in one day followed by a few Bud Lights just to finish off the day. By the end of the Maui stay I did the 15.5km distance in 77 minutes my GPS watch was still going ballistic at 30kms/hr stoked. The Maliko record is 65 minutes held by Dave Kalama a local Hawaiian Legend (faster than OC-1 paddlers)! If you're into down wind paddling you've got to experience Maliko Gulch it will blow your mind it's that good, it's just like a surfer going to Indonesia to get tubed off his face – different sport but the same feeling. A bit of SUP trivia, hanging around the Maui Locals I get to hear a lot of inside SUP gossip the C4 sponsored SUP's are defecting so they can just paddle on F-16's (they are that much faster).
Next it was the Hennessey's Race on the North Shore Turtle Bay to Waimea Bay 11kms. Nowhere near as good as Maliko Gulch on Maui but still fun (paddle power). It was so hectic at the start with 41 SUP's & 143 Paddleboarders I gave everybody a 60metre head start just to avoid the massive wake! When I started I took off & mowed em down. Having some fun paddle battles with the competitors, some competitors said to me later "you wait until next year" I had to laugh. As I was approaching Waimea Bay this scuba diver appeared out of nowhere & I nearly took his head off, luckily the lifeguard was on a jet ski close by as I yelled out & pointed "mine field" he was quickly told to move.
Results:
1st Jamie Mitchell 64 minutes
1st Nathan Henderson 66 minutes
2nd Dean Hanmer 73 minutes
1st Mick DiBetta 69 minutes
2nd Shakira Westdrop 79 minutes
11th Phil Gregory 81 minutes
Next morning 6:30am it was time for a shark dive. www.hawaiisharkencounters.com Upon entering the shark cage most of the Galapagos sharks disappeared & out of the depths came the biggest, meanest Tiger shark 12ft + coming straight for the cage. Smashing the cage, circling the cage eyeing us off thinking they look good to eat – it was truly an awesome sight. She just kept hanging around my corner not only that the Tiger shark hung around the edge of the boat where I was sitting gnawing on the platform at the stern of the boat I was just in awe of this thing so I had to give her a pat on the head (like you would a puppy dog) that made my day.
My next adventure was over to the big island of Hawaii to check out the Kilauea Volcano www.kilaueavolcano.com .What a sight – the crater has a hole 100ft wide with smoke & gas spewing out into the sky. So much smoke it covers the town of Kailua-Kona 2 hrs away. The lava flow then travels through lava tubes to meet the ocean. It's certainly putting on a good show with lava as big as a Malibu surfboard spewing out & flying high into the air – along with more smoke & gas. Truly an amazing thing to witness mother nature at its best. New land being formed with over 600,000 hectares being formed over a space of 25 yrs. You could probably buy cheap waterfront property. About one month ago a young local Hawaiian on his F-16 SUP made news by paddling up close to the lava flow entering the ocean. He was later quoted saying "a couple of drops of salt water landed on his feet and scalded him". If he was to fall into the ocean it would have meant instant death. The temperature of the lava ranges between 1100 deg C – 500 deg C. The water literally boils where lava meets the ocean and walking through an old lava tube 20 ft round is a great experience. Having a busted eardrum from a surfing accident many years ago & also having surfers ear it would be a real nightmare to live on the big island of Hawaii. It's the newest formed island and while driving around the island the altitudes are continually up & down – from sea level to 4,000 ft above. I had to keep equalising my ears due to the change in elevation. It can really do ones heads in. By the end of the day I was walking around like I had shellshock I couldn't hear anything.
The next day I was off to Mauna Kea summit 14,000ft above sea level (well above the clouds) www.maunakea.com to watch the spectacular sun set where there is a group of astronomical observatories due to the very clear skies. Talk about cold decked out in our artic parkas & gloves -0 deg C. Great sunset followed by star gazing through big telescopes. Due to no light pollution the night sky is truly amazing it was a real buzz checking out new galaxies, the moons around Jupiter, Saturn, black holes, & numerous constellations.
The next step in the journey was to Molokai. my support boat skipper (Matt) took me on a full day of deep sea fishing to the northern side of Molokai hoping to catch a big brumby Marlin. I was picked up from his beach front property onto his 40fter styling. Absolutely picture postcard scenery with massive waterfalls & virgin cliff top forest. It looked like a scene out of King Kong- never saw another human being all day. All of a sudden the fishing reel has gone ballistic & I'm looking for this big brumby Marlin to start jumping out of the water. So I start reeling her in on the 300lb line only to skull drag this 12kg Wahoo to the boat instead, still happy with the catch but doesn't beat the 13kg GT I caught in Timor. While trawling had this giant bright blue Mahi Mahi? (metre + long) jump out of the water like a dolphin & then start chasing the lure. Just looked like a massive blue torpedo, by this stage I'm frothing at the mouth couldn't get to the reel fast enough. Unfortunately the Mahi Mahi are more into live bait than lures. After all this excitement we anchored in this crystal clear bay swam to shore & swum under this massive oasis waterfall absolutely magic experience.
My final leg of the journey is the Quiksilver Edition Molokai Race. 32 punishing miles!!! So here I am at the starting line. There was 8 of us in my division. Unlimited SUP solo. This Hawaiian paddles up to me & says "hey man you look like a spaceman" all I did was start laughing. I had my full body white skins on for 2 reasons (1). I won't get sunburnt (2). The skins help pump the blood through your system which helps fight fatigue (footballers train in this gear all the time) + with my 3 litre camel back & extra bottles on the back I guess I did look like a spaceman. The siren sounds & away we go, white water wake going everywhere I'm at the very back (the spaceman's at the back) I'm just getting ready to mow em down. I'm just ploughing through the water with my 10 inch Quickblade (my body works like a diesel motor, it takes a while to get going but once its up to speed it will maintain that pace) I pass one yellow singlet, I pass two yellow singlets, three, four & so on. My next step is to mow the paddle boarders down. The first 10km was too easy catching these little bumps doing good time. By this time you're in the middle of the Pacific Ocean – the swell starts coming from the North (spew) it's 7ft ocean swell going in the wrong direction. Pumping if you're paddling to the Marshall Islands. So it's a side chop paddle the rest of the way, you have to use caution due to the swell – you don't want to end up too far south of Coco Head as you'll have to contend with an outgoing tide + a 30 knot head wind. You don't want a North swell when paddling Molokai you want an ENE swell with an incoming tide (that's pumping conditions). Anyway I've hit the halfway mark by this time I saw a couple of support boats go past with Paddleboards or a SUP in the back of the boat I truly felt sorry for whoever they were & by now I've mowed a few more paddle boarders downstoked. By this stage I've come across Hawaiian Jack Gillan – this bloke's an axe. He's won Molokai every year he has entered, he's paddling a F-16 custom 17fter but with no rudder so he's usually the only one in his division. (99% of the SUP Unlimited Solo paddle custom F-16 17fters have rudders). For 4 hours I'm having the biggest paddle battle with Jack Gillan he'd be 200 metres in front then vice versa, I love that kind of racing – bulk fun. I'd be talking to him every time I'd paddle past just to try & physic him out. I'm a kilometre out from Coco Head at the 49km mark, my bodies still feeling good, I'm paddling hard with my 10inch blade. I've hit the home stretch Maunalua Bay 50 kilometre mark & my bodies all of a sudden wanting to shut down, I'm cramping up big time. I could see the finish line so I'm fighting the cramps (nothing's going to stop me) I'm hugging the cliff face to keep out of the 30 knot head wind & some swell comes through so I'm riding this swell for bulk (it's a world class lefthander on it's day) you could see the exposed reef up ahead so I've bailed out, turned my F-16 upside down so I wouldn't rip the fin out – I'm lying flat like a dead man to let the white water push me over the reef. You could feel the jagged coral heads scratching my back. So I'm paddling hard, the finish line is in sight. I couldn't workout why I wasn't going anywhere then I noticed the breather plug on the F-16 was out. My F-16 was filled with water all I could do was hang my head in defeat, I was shattered there goes 3rd Place. I called the support boat over to empty the water out. I'd trained 12 months for this event. Even kept off the beer for 7½ months & trained when the surf was pumping. (That's a hard thing to do – keep off the beer & turn your back on a surf just to train for Molokai)! Even when training with Mick DiBetta & Shakira I always paddled that extra mile just to make sure my fitness endurance was in form, all I wanted was to finish in the top 3. I wasted over 50 minutes to paddle the final mile just to get to the finish line – shattered!. Kevin Horgan who won Molokai last year was in 2nd place & I was only 10 minutes behind him. This bloke is a machine – doesn't work – all he does is SUP all day. So I ended up coming last. For 3 days after Molokai my body felt like it had played footy against the All Blacks. I guess I'll have to go back & try again in 4 years time when I turn 50. Congratulations to Jamie Mitchell winning his 7th Molokai stoked. Morgan Hoesterley the only female to do Unlimited SUP Solo it took her 8 hours 57 minutes. I take my hat off to her what a gun. I tell ya what they breed the sheilas hard over there in Hawaii & good looking as well. I guess if you went out with Morgan you'd better make love to her like a mink & not like a lion or I'd hate to be in your shoes!
Results:
Overall Elite
1st Jamie Mitchell 4:57:14
Unlimited 40-49
1st Mick DiBetta
Unlimited 29 & under
1st Nathan Henderson 5:25:34
3rd Dean Hanmer 6:16:58
Unlimited women
2nd Shakira Westdrop
Unlimited Open SUP
Phil Gregory 7:47:20
TRIVIA
The parrot fish lives by eating coral & in it's lifetime deposits one tonne of faeces (sand) into the ocean. That's why Australia has beautiful sandy white beaches. So next time you're Lifeguarding at the beach digging your toes into the sand you're actually standing in fish poo!