August 18th, 2017 Posted in
Latest News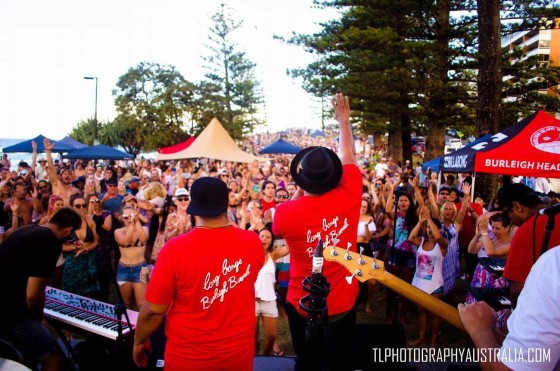 This SUNDAY 20th of August will see Burleigh Boardriders celebrate their partnership with Club Burleigh, with a party at Club Burleigh featuring local artists the Hanlon Brothers. Burleigh is also doing their bit to help out local security guard, Ricky Wood, who was badly injured while working at the Burleigh Heads SLSC.
While the Hanlon Brothers play their grooving tunes, members of Burleigh Boardriders will be doing raffles and taking gold coin donations for Ricky Wood, who has been unable to work since the horrific incident. A lot of the member know Ricky, and hope to help him out in this time of need.
Burleigh Boardriders have recently entered a partnership with Club Burleigh, and it will be the celebration of the alliance, with members, the general public and local MP Michael Hart attending as well.
Also Club Burleigh will be releasing Burleigh Boardriders own beer, Burleigh Boardriders Lager on tap exclusively at Club Burleigh. It is a fun family afternoon commencing at 2pm, all the family is welcome, and Club Burleigh also has a kids room for the little ones that don't want to groove out to the Hanlon Brothers.
An award-winning 8-piece band, Hanlon Brothers masterfully fuse original hip-hop, RnB, soul and jazz improvisations to create a signature sound with a killer combination of raw talent, versatility and flawless technique earning them a dedicated and ever-growing fanbase.
Recently announced as Song Of Year finalists in two Queensland Music Awards categories for track Diamonds, Hanlon Brothers were Gold Coast's Emerging Artist Of The Year in 2015, as well as Artist of the Year finalists in 2016.
Get all the family to Club Burleigh Gold Coast Highway Burleigh Heads (Swell Building) this Sunday  to join the celebration and help out a good cause!!
Further information
James Lewis – President Burleigh Boardriders
0412393703
jameslewis@gmail.com
Terry "Tappa" Teece
0419681804
tappateece@gmail.com