August 27th, 2016 Posted in
Latest News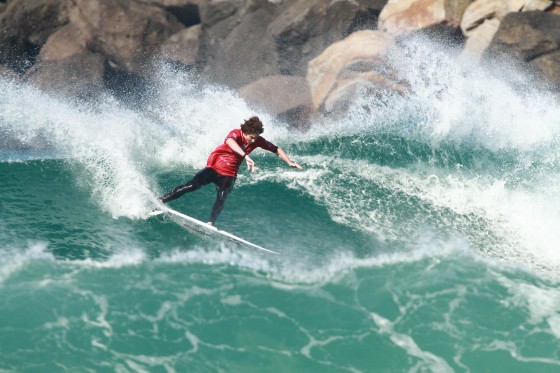 LIAM O'BRIEN QLD UNDER 18 CHAMPION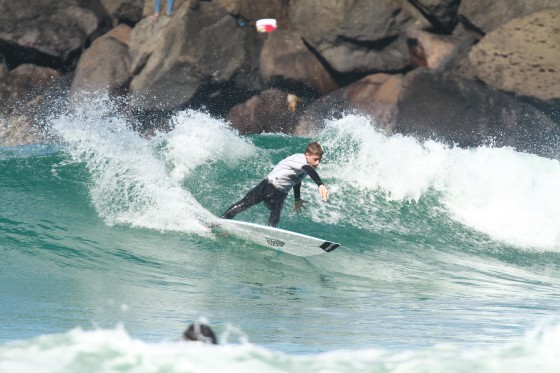 MADDY JOB UNDER 18 QLD RUNNER UP
It's Official!!!!! Burleigh Boardriders have the top 2 under 18 surfers in Queensland. Liam O'Brien has won the Qld Title, and will join fellow Burleigh surfer, Thomas Woods (The current Qld Open Champion) in the QWuiksilver Pro Trials in March 2017.
Liam O'Brien and Maddy Job (Who is just turning 16) will now be off to the Australian Junior Titles!! Our club is going ahead in leaps and Bounds – We now have the Qld Open and Junior Champion, and currently Burleigh surfer Lucy Callister is off to Europe to compete in the World Junior Titles!!
We are Red, We are White We are Surfing Dynamite!! Who are, who are who we? We are the crew from Burleigh!!!!!
See the press release below from Surfing Queensland:-
Competitors on finals day of the 2016 Queensland Junior Surfing Titles were greeted with stellar conditions at the preeminent off-the-wall bank, which Duranbah has to offer. The battlefield was complimented with clean waves in the 3ft range, providing the young juniors with loads of scoring potential which was sure to bolster competition for the final day of their 2016 State Title campaigns.
Capitalising on that scoring potential was none other then Liam O'Brien (Burleigh Heads, QLD) who has been in-form throughout the duration of this years State Title series. The local from Burleigh Heads has had his eye on the golden ticket into the 2017 Quiksilver Pro Gold Coast Trials well before the beginning of this year's series and was today successful in taking it home.
With the likes of Max Kearney (Tugun, QLD), fellow Burleigh Heads local Maddy Job and Kalani Wulf (Pacific Paradise, QLD) in the final match-up, Liam's task was no easy feet but his ability to display speed, power and flow within his dynamic surfing, he was able to defeat those respectively and has been crowned as this year's blue ribbon Under 18 Boys State Champion.
Out of a total 6 heats surfed in Liam's 2016 Queensland Junior Surfing Titles campaign, Liam was successful in winning all but one of his heats which he still finished second place.
Not long before the excitement concluded in the Under 18 Boys final, the Under 18 Girls final already had everyone on the edge of their seats. The stack round of eight ensured that only the best from this division were competing with the likes of Zahli Kelly (Wooloowin, QLD), Ebony Wilson, (Elanora, QLD), Amber Dods (Sunrise Beach, QLD) and Kiani Dobbyn (Palm Beach, QLD) successful in making it through a tough battle into the women's final.
In the end it was Zahli's dominance which couldn't be matched as she had a strangle hold on the heat from start to finish. The win not only mean's she's made the Queensland Team but she will also be joining Liam O'Brien at next year's Quiksilver & Roxy Pro Trials where she may even have the chance to compete up against the worlds best in the Championship Tour.
There were no signs of those in the Under 16 Boys division holding off as competition remained fierce right down to the dying seconds of the coveted final. After making his intentions clear in his semi-final, Coolangatta's Jagger Bartholomew was quick to apply pressure in the all-important final against Kai Tandler (Coolangatta, QLD), Taj Stokes (Buddina, QLD) and Josh Boyle (Currumbin, QLD).
Jaggar's game plan proved to be no match for those in the stacked final where he continued to build on his score line and apply pressure resulting in an overall first place finish above those respectively in event two of the Queensland State Titles.
Not to be outdone was silver medalist, Kai Tandler who despite finishing second in both events, finished first in the overall series ratings with a total 150 points on the strength of two second place finishing results.
The series win for Tandler puts him in the hot seat as one which others will be keeping a close eye on as they come into the 2016 Australian Junior Surfing Titles at Phillip Island later this year.
Local contender Piper Harrison (Coolangatta, QLD) dominated the field of Under 16 Girls and took out first place for event two of the Queensland Junior Titles. Piper's win today, backed with her first place finish in event one on the Sunshine Coast grants her the 2016 Under 16 Girls State Championship over Holly William (Buddina, QLD) and Shaye Leeuwendal (Currumbin, QLD) who finished second and third respectively.
The podium finish for the golden trio warrants them a spot in the team to represent Queensland at the forthcoming Australian Junior Titles reinforcing the overall strength of the team in maroon.
2016 Queensland Junior Surfing Champions – Team Queensland.
Under 18 Boys
1st – Liam O'Brien
2nd – Maddy Job
3rd – Noah Stocca
4th – Max Kearney
This year's series also see's the Under 18 Male and Female Junior Surfers vying for a wildcard into the World Surf League (WSL) 2017 Quiksilver and Roxy Pro's trials where each Male and Female State Champion will receive a wildcard to surf in the trials event and potentially compete against the world's best professional surfers on a world stage.