December 28th, 2011 Posted in
Latest News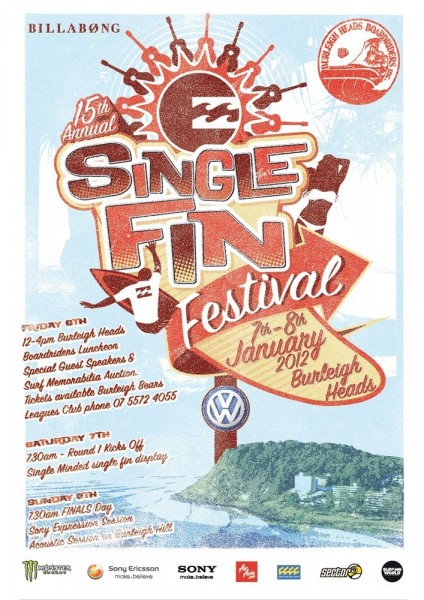 BURLEIGH BOARDRIDERS SINGLE FIN FESTIVAL
Presented by BILLABONG
JANUARY 6TH, 7TH, AND 8TH 2012
CLASSIC SURFING, ON CLASSIC BOARDS, AT WORLD CLASS CLASSIC POINT FOR THE 2012 BURLEIGH BOARDRIDERS SINGLE FIN FESTIVAL
Once again surfboards from before 1982 are being dusted pulled out of the garage and made ready for competition for the 2012 Burleigh Boardriders Single Fin Classic presented by Billabong.
Part of the Burleigh Boardriders Single Fin Festival, which starts with the Burleigh Boardriders Charity Luncheon on Friday the 6th of January, and continues with the Burleigh Boardriders Single Fin Classic, presented by Billabong, on the iconic point break of Burleigh Heads. Over he weekend at Burleigh Point there will be host to a display of antique surfboards and memorabilia, plus a live music performance from Josh Lovegrove with the "Single Fin Acoustic Session on the Hill" on the Sunday.
The Burleigh Boardriders annual Charity Luncheon will be held at Burleigh Bears Leagues Club, hosted by funnymen, Freddo Lang and Steve Allison, with guest speakers; Mark Occhilupo, Joel Parkinson, and Shaun Hart, Gold Coast Suns Assistant Coach, Norm Smith Medalist, and 3 times AFL Premiership winning player with the Brisbane Lions. Other surprise guest speakers are also expected. There will also be a bumper sports memorabilia auction and giant raffle.
On Saturday the action turns to the surf where single fin surfboards made before 1982 hit the iconic point break of Burleigh Heads. Competitors in the event will range in age from 10 to 50 years of age, all surfing on boards over 30 years of age. Competitors in previous years include: – Mick Fanning, Occy, Luke Egan, Dave Rastovich, Cheyne Horan, Gary Elkerton, Bede Durbidge, Jay "Bottle" Thompson, Jockey Damien Oliver, and Rugby League legend, Andrew Johns just to name a few.
This year Occy, and Luke Egan will don the singlet again, but will have a troop of up and coming champions giving them a great run for their money for the Single Fin Classic Title. 2011 Champion, Clint Kimmins will be defending his title, and is keen to make it 2 in a row. Here are some of Clint's thoughts on the event-
"The single fin is one of those events that you just really want to win. The contest isn't about the money or the prizes- it's about trying to surf well in front of your mates. I respect all the old boys out at the point and to surf on the boards that they use to ride back in the day is not only fun but also a great challenge.
Burleigh is a place that I've grown up surfing; I feel I know the waves really well so I'm hoping for a repeat performance of last years win.
There's always a great vibe on the point and the event pulls a good crowd. Everyone is hooting and cheering and it just feels good when you pull the heat jersey on. It's an honor to be able to surf the point in a contest on a single fin. "
One of Clint's good mates, Noah Lane, was runner-up in last year's event, and is keen to grab a win in 2012. Noah is a Burleigh Boardrider, and has been competing in the event since he was 10 years of age. Noah's Dad, Justin was a member of Burleigh Boardriders, and Noah is the local crowd favourite. His dynamic backhand style has earned him a wildcard to the Breaka pro for Burleigh Boardriders, and will definitely one to watch. Other Burleigh Boardriders to keep an eye on will be young guns Josh Hyland, his brother and former winner, Tim Hyland. Another former winner to keep an eye on will be ASP Australasian Pro Junior Champion of 2011, Thomas Woods,  Woodsy won the contest in 2010, at only 17 years of age.
Another Burleigh local ripper, Kyle "Dvex" Robinson, also known as "3 in-a-row Deveccio", after winning the event 3 years running, is a constant finalist in the event. Dvex loves Burleigh and the single fin classic;
"At Xmas 1983 I received my first surfboard an MR Single fin. The Single Fin Classic being held just after Xmas each year, means I can dust off the old single fin and re-live some of the gold old times! I get to say Happy New Year to my mates, surf my favourite contest, at my favourite place on earth, Burleigh Heads."
The last word on the single fin should go to "The Sheriff of Burleigh Heads", Dwayne Harris. Dwayne is a life member of Burleigh Boardriders, and a well-known figure at Burleigh Point for decades…
"The single fin to me is a fun contest a reunion for all the old crew and a memorial to remember our fallen brothers and sisters. It is not a pro contest, the idea is to keep it real, don't be serious, and have fun. Also to remember the reason for the contest to have fun and to pay our respects to all our lost surfing friends."
The Burleigh Boardriders Single Fin Classic, presented by Billabong, is to be held Saturday and Sunday, the 7th and 8th of January 2012. Limited entries are available, entry forms can be found at www.burleighboardriders.com.au , competition commences 8am both days.
The Burleigh Boardriders Charity Luncheon will be held at Burleigh Bears Leagues Club, from 12pm on Friday 6th of January 2012. Tickets are $100, which includes food, refreshment, and entertainment. To purchase tickets contact Burleigh Boardrdiers Treasurer, Andrea Ford, on 0755354349, or andrea@fjpcs.com.au .
For further information, interviews, and photo opportunities-
Media Liaison
Terry "Tappa" Teece
0419 681 804
Burleigh Boardriders Club Inc were established in 1965, there current focus is to raise funds for Junior Development. Not only the Junior Development of contest surfing, but development of the surfer as a whole, including skills in administration, event management, judging and all skills involved in the surfing world. Burleigh Boardriders is a not for profit incorporated organization, based at Burleigh Heads in Queensland, Australia, and are the caretakers of the world famous surf break of Burleigh Heads.