February 11th, 2010 Posted in
Latest News
THE 2010 BURLEIGH BOARDRIDERS AGM WAS HELD THIS WEDNESDAY, AND THE NEW COMMITEE HAS BEEN ELECTED. CONGRATULATIONS TO PRESIDENT EDWARD LINDORES, ONCE AGAIN OUR ILLUSTRIOUS LEADER!!
A GREAT CROWD IN ATTENDANCE, AND IT LOOKS AS THOUGH WE ARE SHAPING UP FOR A GREAT YEAR.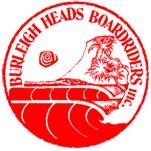 Burleigh Boardriders AGM results 2010
President; Ed Lindores
Vice Presidents Craig Whillans & Jye Brazenas
Secretary & Media. Terry Teece/
Treasurer; Andrea Ford
Committee ; Ron Williams, Wayne Morris, Mike Manning,
Murray Ward, Peter Harris, Mark Wilson.(WILBA)
Contest Director 1. Dave Paget 2. Mark Adams (BOD)
Teams Manager; James Lewis
Coach 1. Kyle Robinson. 2. Jessie Outram
Junior President. Jed Denison,
Vice Junior President; Hamish Whillans.
Equipment and Club Trailer. ( Lumbo) Jamie Johnson, Josh Stewart
Social Events ,Functions& BBQ Lumbo,