February 11th, 2010 Posted in
Latest News
COME ONE COME ALL, SIGN ON DAY FOR THE BURLEIGH BOARDRIDERS 2010 SEASON.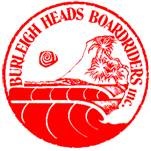 SUNDAY FEBRUARY 14TH
8-10 AM
ALL OPEN MEMBERS MUST BE NOMINATED BY A CURRENT FINANCIAL MEMBER, JUNIOR HAVE TO HAVE MUM, DAD OR GUARDIAN TO SIGN YOUR CLUB MEMBERSHIP FORM IF UNDER 18. BBQ AND LUCKY PRIZE DRAW….
MEMBERSHIP IS
$40 JUNIOR
$70 OPEN
INCLUDES CLUB T-SHIRT!!
BE THERE!!!