December 29th, 2009 Posted in
Latest News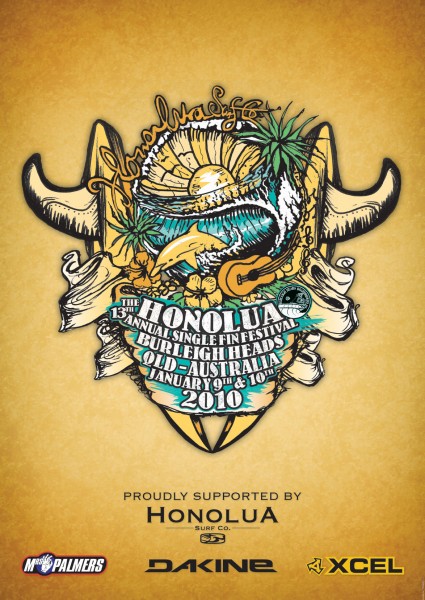 BURLEIGH BOARDRIDERS SINGLE FIN FESTIVAL 2010
Presented by HONOLUA
JANUARY 8TH TO 10TH 2009
FIRST EVENT OF 2010 SEES THE CLASSIC SINGLE FIN SURFBOARDS RETURN TO THE WATER
The first surfing event of 2010 sees the return of the classic single fin surfboard, with legends of the past, present and future getting together on classic pre-1985 single fin surfboards. The event commences with the Burleigh Boardriders Charity Sports Luncheon to be held at Burleigh Bears Leagues Club, and then continues with the Honolua Single Fin Classic (9th & 10th), a surfing event where all entrants compete on the classic antique craft, at the world famous surfing break of Burleigh Point.
The annual charity luncheon this will see guest speakers including 5 times World Muay Thai kickboxing champion John Wayne Parr, Olympians Ky Hurst and Ken Wallace, WCT surfer Jay "Bottle" Thompson, and other sporting and surfing stars yet to be confirmed. The luncheon will be hosted by comedian Freddo Lang,
The Honolua Single Fin Classic will see legendary surfers competing on boards made before they were household names, and some of the younger competitors on boards that are more than twice as old as they are. Past competitors include Mark Ochilupo, Luke Egan, Mick Fanning, Gary 'Kong' Elkerton, Jay "Bottle' Thompson, and many others who some not currently on the WCT are expected to compete in this years event. The surfers just mentioned are all regulars to the luncheon. Occy will be looking to improve on last years 5th place, and once again spectators will be keen to see Occy's style on the classic single fin surfboards.
The Honolua Single Fin Classic is one of the most prized on the surfing calendar, soul surfing on boards over 23 years old, some 30 years or older. Real surfing, back to the days where getting your board and going surfing somewhere with your mates was the dream tour, not contests and prize money. The winning surfer does not get a truckload of money and novelty prize cheque; just a trophy, a classic Honolua Single Fin surfboard, and the glory of being the 2010 champion.
.
The surfing action kicks off on Saturday and surfers from all over the East Coast of Australia will be cleaning off the dust from their pre-1985 single fin surfboards from under houses or the back shed to compete for the glory of being crowned the 2010 champion.
Surfers can only surf antique "Old School" single fin surfboards made before 1985, and the weekend will see many stories from the good old days swapped amongst those at Burleigh Point. The collection of the old single fins is like a museum display, onlookers always keen to check out the many old and varied surfboards from a bygone era. Each year thousands line Burleigh Point each year to watch the action, classic surfing on classic boards from a bygone era, almost like a flashback to the legendary Stubbies Classic.
Defending Champion Paul Ward will be out to defend his title won in 2009, and will be dusting off his classic single fin to defend his title. The Col Smith and Alan Byrne channel bottom design are some of the boards most cherished by surfers in the event. Another favourite of competitors are the old Dick van Straalen boards, some of those boards surfed in the event were owned by late Burleigh legends Joe Engel and Mick Murphy. A select field of 96 surfers compete in the event, entries fill fast and are $70 and includes a prized event T-shirt. Last year Burleigh Point was pumping out it's legendary Burleigh barrels, and competitors are hoping to see more of the same this year.
The Burleigh Boardriders Single Fin Charity Luncheon tickets are $100 per person and include food and refreshments and are once again in high demand with only a few tables remaining. Tickets for the luncheon are available from Burleigh Bears Leagues Club, or Burleigh Boardriders Vice President Ash Humphries by calling 0439762018, or Club president Edward Lindores, on 0413 757 551
Entries to the Honolua Burleigh Boardriders Single Fin Classic are available from Surfing Queensland (07) 55201165 or can be downloaded from the Burleigh Boardriders website www.burleighboardriders.com .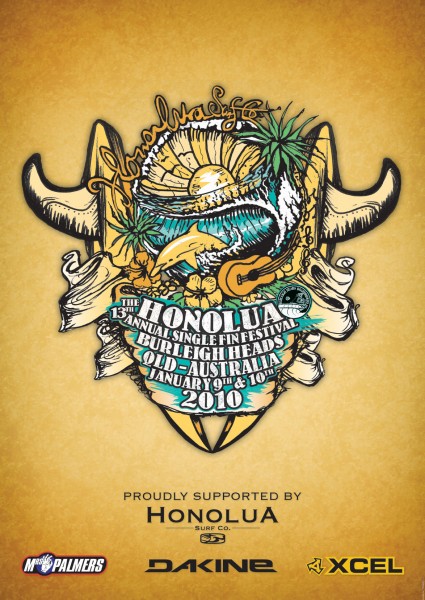 Fast Facts
BURLEIGH HEADS BOARDRIDERS SINGLE FIN FESTIVAL
CHARITY LUNCHEON
Commences – 12pm, Friday 8th January
Where – Burleigh Bears Leagues Club, Pizzey Park, Miami
HONOLUA SINGLE FIN CLASSIC
When – Saturday 9th, and Sunday 7
10th January
Where – Burleigh Point
Commences – From 8am both days
PAST CHAMPIONS
2009 – PAUL WARD
2008 – RIQUE SMITH
2007 – JAY THOMPSON
2006 – RIQUE SMITH
2005 – SASHA STOCKER
2004 – TIM HYLAND
2003 — ANTHONY POLS
2002 – KYLE ROBINSON
2001 – KYLE ROBINSON
2000 – KYLE ROBINSON
1999 –
1998 –
1997 – IAN BYRNE
For more information, interviews and photo opportunities:-
Media
Terry "Tappa" Teece
Mobile: 0408 011 111
tappateece@gmail.com
Event Entries and Luncheon Tickets
Ash "Champ" Humphries
Contest Director
0439762018
Edward Lindores
President Burleigh Boardriders
0413 757 551
www.burleighboardriders.com