November 24th, 2009 Posted in
Latest News
SEE THE VIDEO….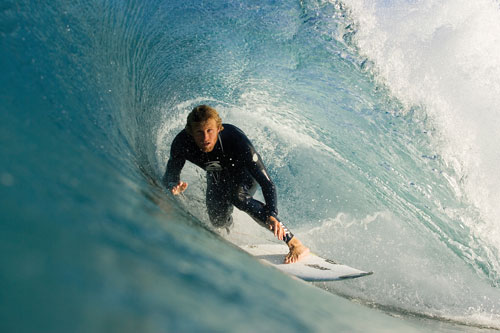 http://www.triplecrownofsurfing.com/reefblog/video.php
ASP WQS Situation Room – Monday, November 23, 2009
COOLANGATTA, Queensland/Australia (Monday, November 23, 2009) – Congratulations to Joel Centeio on his first major ASP WQS win at his home break of Haleiwa in the ASP WQS 6-Star PRIME Reef Hawaiian Pro. Joel's only previous win was at Sunset Beach in 2007.
Obviously Joel was ecstatic with his $20,000 winner's cheque and the 3500 points that went with it moved him to 51st on the ratings.
Fellow finalists were CJ Hobgood, who also was not that interested in the ASP WQS points and more wanting the Vans Triple Crown Title. In third was Jay Thompson and fourth Alain Riou.
Jay and Alain definitely wanted the points over money ,and Jay's third has all but guaranteed him a start in the ASP World Tour next year as he has moved to 6th with 13,638 points. Alain jumped a lot also, but is still back in 26th on 11,082.
The Top 15 cutoff has moved slightly upward from 12,125 to 12,200 and is looking like being around that 12,500 mark.
On the ratings, there are lots of minor placing changes, as usual, but what has happened is that the group of surfers between 11th and 24th are now only less than 900 points apart.
Big movers upwards are Jay Thompson 14th to 6th, Marco Polo 20th to 12th, while a lot of others did not move more than one place, but added a lot of points to their total.
The Top 9 are now all over 13,000 with Matt Wilkinson slightly behind on 12,850. From Matt in 10th to 11th however is a big batch of over 500 points so a great result in the O'Neill World Cup is required.
Most surfers are carrying a low score of more than 1,100 so will need a 17th or better.
On the points' possibilities all the way down to 39th could possibly make 12,500 points and come from nowhere with a last event win.
In reality though, down to about 25th have a reasonable chance.
Current Top 25 on the ratings are:
1 Ross,Daniel AUS 14975 1375
2 Gudauskas,Patrick USA 14876 1625
3 Andre,Jadson BRA 14813 1375
4 Wright,Owen AUS 14338 1225
5 Melling,Adam AUS 14288 1225
6 Thompson,Jay AUS 13638 1125
7 Yeomans,Nathan USA 13419 1225
8 Munro,Luke AUS 13263 1125
9 Simpson,Brett USA 13150 1375
10 Wilkinson,Matt AUS 12850 1300
11 Logie,Travis ZAF 12344 1181
12 Polo,Marco BRA 12331 1156
13 Thornton,Blake AUS 12325 1225
14 Dornelles,Rodrigo BRA 12206 1181
15 Courtney,Drew AUS 12200 1125
16 Gudauskas,Tanner USA 12175 1225
17 Duru,Joan FRA 12125 1375
18 Payne,Dusty HAW 11925 1225
19 Ware,Austin USA 11725 1225
19 Zubizarreta,Gony ESP 11725 1375
21 Atkinson,Dion AUS 11669 1225
22 Miranda,Bernardo BRA 11601 875
23 Hall,Glenn IRL 11600 1500
24 Jackson,Brandon ZAF 11431 1100
25 Cardoso,Willian BRA 11151 1125
Thats it for this week.
Back after the ASP WQS 6-Star PRIME O'Neill World Cup with who made it.
Regards,
Al Hunt
ASP WQS Tour Manager