August 17th, 2009 Posted in
Latest News
BURLEIGH GROM CLINT GUEST FLEW THE FLAG FOR BURLEIGH BOARDRIDERS TURNING ON ABIG PERFORMANCE AT THE AUSTRALIAN LONGBOARD TITLES.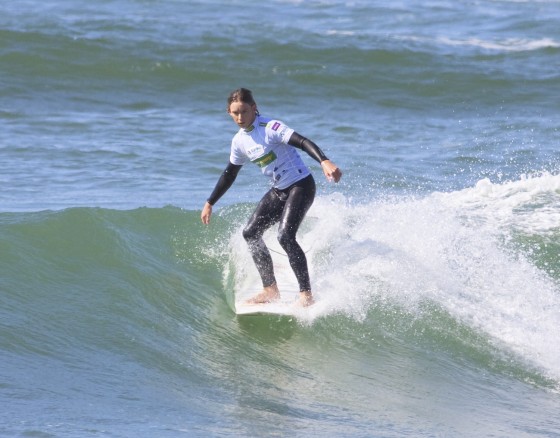 CLINT A WATERMAN WHO PERFORMS JUST AS WELL ON THE SHORTBOARD AT THE POINT WAS ONE OF THE STANDOUTS ON HIS 17TH BIRTHDAY.
HAPPY BIRTHDAY MATE!
PRESS RELEASE BELOW
Young guns blaze a trail at Australian Longboard Titles

(Port Macquarie, NSW – Monday, 17 August 2009): Day two of the Australian Longboard Titles saw the full spectrum on show as the eldest and youngest competitors dominated the days proceedings.

Stereotypically known a leisurely sport for the elder statesmen and women, day two of the Australian Longboard Titles saw the sport taken to new levels with the new-school of longboarders breaking free.

Heading up that list was George Cunningham (Bundaberg, QLD) who surfed from rail-to-rail with power and poise.

Racking up a total heat score of 15.25 (out of a possible 20), Cunningham was in sparkling touch.

"It was really fun out there," he said.

"I just went out there and did my own thing, I almost forgot that I was surfing in a contest for a while there," the relaxed Queenslander said.

"I have got an identical twin," he continued.

"So rivalry between the two is a great for my surfing."

With 23 Australian titles to be awarded in 21 divisions, and the best surfers across the nation converging upon the wave-rich Port Macquarie region, this morning saw a simmering selection of world-class talent.

Following on from Cunningham's performance was Clinton Guest (Burleigh, Qld).

Celebrating his 17th birthday yesterday, Guest made the most of his birthday wishes – turning in one of the best performances of the Country Energy Australian Surf Festival thus far.

Feeling at home on the predominantly right-hand peak at Town Beach, Guest dazzled with a dynamic variety of traditional and futuristic moves.

"It's was bit windy yesterday, but today cleaned up nice, surf conditions are right sided like at Burleigh so thumbs up."

With a division stacked with an abundance of future stars, Guest isn't getting too carried away with today's performance.

"The level of surfing at this event is through the roof," he admitted.

"With guys like Jackson Winter and  the Cunningham Brothers competition its going to be a tough event to win."

Also donning the competition vest was the over 50, 55 and 60 years who showed they still had what it takes.

In 2009, with an expanded festival program, The Country Energy Australian Surf Festival also boasts live music, surf art and photography, retro surfboard displays, surf film screenings and surfing education courses to appease the palates of all cultural enthusiasts, or just the humble surfer.