Single Fin Festival
2018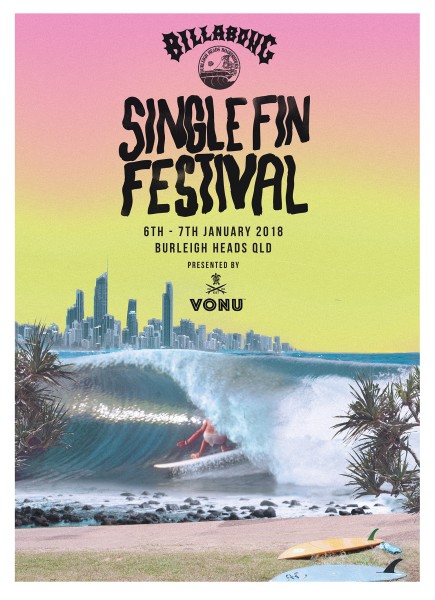 Singley the Best Weekend of the Year
The first and most loved surfing event of the season, the Burleigh Boardriders Single Fin Festival is once again taking over the beautiful Burleigh Headland the first weekend of January. The iconic event is nostalgic journey and an ongoing part of Gold Coast culture for the last 21 years. Getting bigger and better as the years go by, surfers participate in the event riding pre-1985 single fin surfboards, with some of the World's best surfers turning up to compete; 2017 winner and 2012 world champion Joel Parkinson is set to surf and defend his title.
The event starts on Friday 5th January at Club Burleigh, with the Annual Charity Luncheon, hosted by former jockey and Footy Show star, Alan "Robbo" Robinson and Surfing World Editor Vaughan Blakey.
This year's guest speakers include:
– Taj Burrow & Joel Parkinson (World Tour Surfers)
– Rod 'Kerbox' Kerr (Bondi Rescue) and Simon Law (Former Pro Surfer)
– Troy Bayliss (Moto GP rider)
– Ben Hannant (Fomer Broncos, Titans, Qld and Australian Rugby League player)
It is always a great laugh and a good time, and for the first time will be held at the new home of Burleigh Boardriders, Club Burleigh, Gold Coast Highway, Burleigh Heads.
Tickets have just been released and are $120/person or $1100/ table of 10 with proceeds from the event and charity auction going to Burleigh Boardriders Junior Development Program as well as local charities.
The Burleigh Boardriders Single Fin Classic will take place on Saturday 6th and Sunday 7th of January, with a field of red hot locals taking on current and former tour surfers on antique single fin surfboards, for not cash, but the glory of winning the event, and the prized hand shaped Ian Byrne single fin board. The event is unique in that it is a chance for current WCT surfers to compete against ex-champions, hot young WQS surfers, local legends as well as famed professional free-surfers.
Surfers already listed to complete include last year's champion Joel Parkinson, plus recently retired World Tour Pro Taj Burrow, and a list of former World Tour Surfers including Matt Hoy, Simon Law, Rod Kerr, Cheyne Horan, plus Burleigh Boardriders and former winners Jay "Bottle" Thompson, Thomas Woods, and Tim Hyland. Billabong's team of free surfers will also be strutting their stuff ensuring some world class surfing.
There will also be a ladies invitational event featuring local girls and Billabong team surfers such as big wave charger and Burleigh member Felicity Palmenteer all fighting for a new specially made CHAOS Single Fin.
One of the most hotly contested divisions will be the Juniors, and it is pretty awesome to watch kids surfing on boards that are in some cases older than their mum and dad. It has a field of only 24 and is the first filled, they too will be contesting for a specially designed AK single Fin.
It is a limited field and entries are on a first in first served basis. The chance to surf Burleigh Point with Parko, Taj and only few out, is worth the entry fee alone, even more so if the World Class sand-bottom point turns on. Entries are now open, and are available by following the link below to the Surfing Queensland website.
https://www.surfingaustralia.com/states/qld/events
Also Burleigh Boardriders and Billabong will have The Hanlon Brothers playing on Burleigh Point on Sunday afternoon from 2 to 6pm, with other entertainment both days at Club Burleigh.
A courtesy bus will be provided by Billabong, leaving every hour from their factory on West Burleigh Road throughout the weekend, take advantage of the free parking at the old Bunnings site and enjoy the festivities or stay on for a meal and refreshing beverages at Club Burleigh!
2017
20 years and still single!!!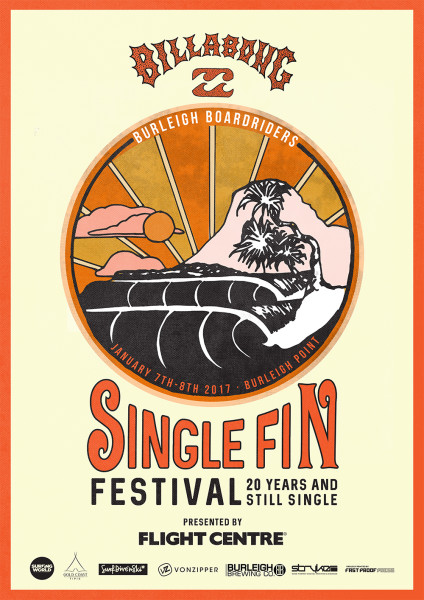 20 years ago a single fin surfboard could still be found in a garage, or at the dump, they were out of fashion, part of the past, to ride a thruster was the only way it could go. But a bunch of blokes at Burleigh Boardriders, thought something special of the old boards, and decided to hold the first ever Burleigh Boardriders Single Fin Contest, and Peter Roberts was declared the winner (Even though it was by random draw out of a hat!).
PR (Peter Roberts) passed the following year, and the lads from Burleigh Boardriders put the contest on as the PR Memorial Single Fin Contest. Under the guidance of Burleigh legend, Mick Murphy, the contest grew, and Mick saw it as a vehicle to raise money for the junior development of the Burleigh Boardriders club, and so the event grew. Mick's idea has certainly grown fruit with Burleigh Boardriders currently having the Queensland Open Men's Champion, Qld Junior Mens Champion, and are the number one Boardriders Club in Queensland. As Mick Murphy said, it all starts with the kids, and now have junior women and men competing on a national and international level.
As the contest was becoming more popular, another fundraising effort was born, the annual Single Fin Charity Luncheon, a day to have a good time and raise some much needed funds for the junior's of the boardriders club. A who's who have been guest speakers, from Andrew Johns, Mick Fanning, Joel Parkinson, Mark Occhilupo, Chef Peter Evans, Darren Lockyer, Jockey Damien Oliver, Motogp World Champ, Wayne Gardner, and many other celebrities and sportspeople. So now the event has turned into a 3 day Festival of fun, music, fundraising, and most of all classic surfing on surfboards with one fin made before 1981.
This year as always the Single Fin Festival starts with the charity luncheon, this year held at the Burleigh Brewery. Brews, stories, and laughs will be par for the course, and as always some amazing sporting memorabilia up for auction. Tickets disappear very quick when released, and include food and beverages, and can be purchased via Surfing Queensland for $120. All monies raised goes to Burleigh Boardriders Junior development and selected charities.
Then the series stuff starts on the weekend of the 7th & 8th, with the 20th Burleigh Boardriders Single Fin Classic. Surfers of all ages competing on surfboards that are anywhere from 35 to 50 years or more old, it is like walking around and watch a living, breathing, moving surfing museum, right before your eyes. Some of the world's best surfers compete in this event, and as always there are some surprise celebrity appearances surfing in the event from pro surfers, to internationally known musicians, and world class sportspeople. It is the weekend of the year at Burleigh.
You want to be part of this? Well get down to Burleigh Point over the weekend of the 7th and 8th of January. Great surfing and as well Gold Coast groovers, the "Hanlon Brothers" will be playing on both days over the weekend. Everybody who knows will be down to get some fun at the Burleigh Boardriders Single Fin Festival.
For event entries and luncheon tickets go to www.surfingqueensland.com , bring a great attitude and have a good time.
SINGLY THE BEST WEEKEND EVER!!!
It is something now of legend. The second weekend of January, everybody gets ready for the weekend of the year. The natural amphitheatre that is Burleigh Heads is lined with thousands of people checking surfing, not pro-surfing but awesome 1970's-style surfing on surfboards more than 35 years old, and just how used to be with one single fin.
The 19th Burleigh Boardriders Single Fin Festival will be held on the 8/9/10th January 2016, first surfing event of the 2016 year. Surfers will be competing on antique single fin boards which must have been made no later than 1981, some of the boards surfed are of vintage on late 1960's and early 1970's. Over the years surfers have travelled for Westren Australia, Victoria, NSW, all the way up the East Coast of Australia to the Sunshine Coast to compete in this iconic event.
The Festival commences on the Friday with the Annual Charity Luncheon. Guest speakers will be; Nathan "Carnage" Corbett international renown Mutai boxer, former Rugby Union and rugby League International Michael O'Conner will join him along with legendary surfer, shaper, and skipper Tony "Doris" Eltherington. Alan "Robo" Robinson TV personality will be the MC, and other guest speakers to be announced soon. Most of the local pro surfers attend, enjoying the low key fun of the luncheon in their break from the world tour. There will be an amazing sports memorabilia auction, comedy, and great food and drink for all that attend.
Saturday and Sunday will see the Burleigh Boardriders Single Fin Classic take place at the iconic Burleigh Heads Point break where some of the best surfers take on Burleigh on the old boards. Surfers who have competed in the event include Mick Fanning, Joel Parkinson, Jack Freestone, Bede Durbidge, Dave Rastovich, Wayne Rabbit Bartholomew, Gary Elkerton, musician Ash Grunwald, Jockey Damien Oliver, footballer Andrew Johns, celebrity Chef Peter Evans, and a host of others. There is a field hot of locals to contend with, last year Burleigh Boardrider Thomas Woods took victory for the second time, the top 100 ranked surfer will be back this year to defend his title. There will be 96 competitors, there are no cash prizes, just the glory of being the champion, and a classic Dick Van Straalen single fin made especially for the event winner.
To enter the event go to the Surfing Queensland website
https://www.surfingaustralia.com/states/qld/events/2016-burleigh-boardriders-single-fin-festival-presented-by-billabong
It is a carnival atmosphere, great surfing, displays of surfcraft from a bygone era, and live music on Burleigh Point on the Sunday. Get down there and check it out!
For Further Information
Media
Terry Tappa Teece
0419681804
tappaproductions@gmail.com
2014
For online entries
http://surfingqueensland.com/event.php?id=242
Juniors
http://surfingqueensland.com/event.php?id=241
  or Click below for 2014 entry form..
EntryForm_2014_Burleigh_SingleFinComp_
Burleigh Boardriders one again will be bringing back the laid-back times of the 1970's, with the 17th annual Burleigh Boardriders Single Fin festival from 10th to the 12 of January. Friday will see the Charity Luncheon at Burleigh Bears Leagues Club, with celebrity guest speakers, comedians, and some of the world's best surfers in attendance. Saturday and Sunday will see the Single Fin Classic held, where all surfers that compete in the contest, must surf on single fin surfboards made before 1985, meaning every board that is surfed in the event, is an antique and a unique part of living, surfing history.
This year is a special one for many of those that surf Burleigh Point, held in memory of "AB", Alan Byrne, who passed away suddenly only a few months ago, and Alan a true craftsman of surfboard design, the first ever Kiwi to be accepted by the Burleigh Boys in the 1970's. Alan's 1970's channel bottom single fins are a prized craft, and they are "the" board to surf on in this event.
The event has a special spirit to it as well, six man heats, and a really cool attitude from all the competitors in the water, where hassling is at a minimum, and cheering on your fellow competitor as the surf a wave is mandatory. The 2013 winner, Dave Rastovich, embodies the spirit of the single fin, cool relaxed, and surfing with that bit of style and class. Dave grew up surfing at Burleigh Point, before embarking on his journey of being a soul surfer, and championing many other environmental causes.
Last year Rasta won a handcrafted single fin made by local legend Dirk Van Straalen, to say he was happy with the win would be an understatement. This year will be a handshaped Alan Byrne replica single fin for the event winner, but just competing, watching from the rocks, is all part of the vibe that is the single fin, which Rasta says draws him to the event;
"It's such a wonderful thing to be able to come down and pull out these old relics and have a lot of fun on the point." There also is an under 18 division, and the young grommets really impressed Rastovich.
"I grew up in the area and moved away about ten or 12 years ago and I really miss the headland and the community. To come back and see the amount of grommets here – that semi final and final display from the groms was amazing. It's so great and it's important to have events like this and to keep inspiring them to do what they're doing,"
This year Rastovich will be back to compete once again, and even though music legend Ash Grunwald will not be performing at the point like last year he will be competing, and after progressing through a few rounds last year will be keen to get into the spirit of the event again. The whole thing is about surfing for surfings sake, remembering lost friends, and for the Burleigh Boardriders it is their major fundraiser for the year. This year Breaka flavoured milk have come on board, wanting to help the grassroots of surfing, along with Billabong and Scoot airlines. The Single Fin Classic is the first event of 2014, and Burleigh Point will once again be crowded with people from the Gold Coast and beyond to check out classic surfing on classic surfboards.
The level of surfing at the event is incredible, Joel Parkinson, Mick Fanning, Occy, Luke Egan, are just some of the big name surfers to compete in the event. Occy, Rasta, and Luke Egan look set to compete again this year, along with World Professional Junior Champion Jack Freestone competing against a field of local Burleigh rippers, and red hot surfers from the Gold Coast and beyond. It is a prestigious title to win; you only win a single fin surfboard, and the glory – it is all about the glory, the title and the fun.
With money raised from the event, Burleigh Boardriders donate some to local charities, and the balance going back into Burleigh Boardriders Junior Development program. Three times single fin Champion and Burleigh Boardriders head coach, Kyle "Dvex" Robinson sums up Burleigh Boardriders Junior Development plan quite well; "We have a squad of about 30 juniors who train once a week, and we are hoping one day that they can follow the lead of surfers like Jay "Bottle" Thompson, and qualify for the World Championship Tour, and maybe even have a world champion one day. Overall though, we are developing the groms as whole person, we have had improving results for the last few years, and they really are a great bunch of kids."
Groms as young as ten years old compete in the single fin, and seeing them surf on a board that is three times as old and three times as big as them is a great sight to see, one of the most entertaining part of the Single Fin Classic according to most spectators.
Mark it in your dairies, the 10th, 11th, and 12th, of January to come and check out the 2014 Burleigh Boardriders Single Fin Classic. Sit on the natural ampitheatre that id Burleigh Point, or "Jelergull" as the ancients from the Koomberri Tribe named it from there dreaming stories. Just the vibe, the feeling, and the excellent level of surfing is worth pulling up a piece of grass or rock on the headland and just soaking it all in.
It's free to come and watch, and tickets for the charity luncheon are $100, including food and refreshments, celebrity guest speakers, and tickets can be purchased from Burleigh Bears Leagues Club. Once you have checked out the Single Fin Festival once, like many others you will be back every year.
2012
 Entry forms are available now for the 2012 Burleigh Boardriders Single Fin Classic, presented by Billabong, is to be held on the 7th & 8th of January, as part of the 2012 Burleigh Boardriders Single Fin Festival, presented by Billabong.
A unique event where competitors ride single fin surfboards, that can be made n later than 1981, and celebrating the style, fun and good times of the 1970's, when the surfers like Mark Richards, Michael Petersen, Peter Townend, Cheyne Horan, Peter Harris, Shaun Thomson, and Wayne "Rabbit" Bartholomew dominated the competition at "The Stubbies" held at Burleigh Point each year..
The history of the Burleigh Boardiders Single fin Classic is a rich one indeed, just like the History of Burleigh Boardriders, formed in 1965, and going from strength to strength today. The winners and competitors list is a who's who of surfing with names like Mick Fanning, Jay "Bottle" Thompson, Dave Rastovich, Wayne "Rabbit" Bartholomew, Gary "Kong" Elkerton, and last years Champion Thomas Woods are some the surfers that have competed in the event over previous years. Antique boards, legends of surfing at one of the world's best waves ensures that the field of 96 surfers fills up each year.
There is no prize-money, just prizes and the glory of being crowned champion of the first and one of the most prestigious events of the surfing calender..
For more info and to download the entry form by clicking the link below…
Also as part of the Burleigh Boardriders Single Fin Festival, is the 2011 Charity Luncheon, to be held on the 6th January at Burleigh Bears Rugby League Club. At present we have MC Comedian "Freddo" Lang, Comedian Steve Allison, Parko and Occy, Gold Coast Suns player Nathan Bock, plus other guests, (a couple of special ones) yet to be announced. Tickets are available from the Burleigh Bears Leagues Club, or other outlets to be announced….
Stay tuned for more news to come………….
2011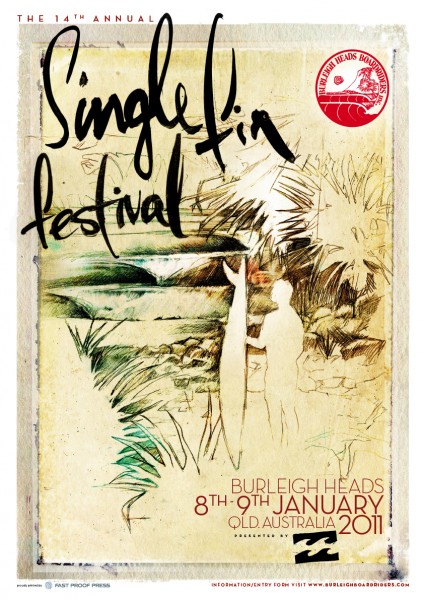 2010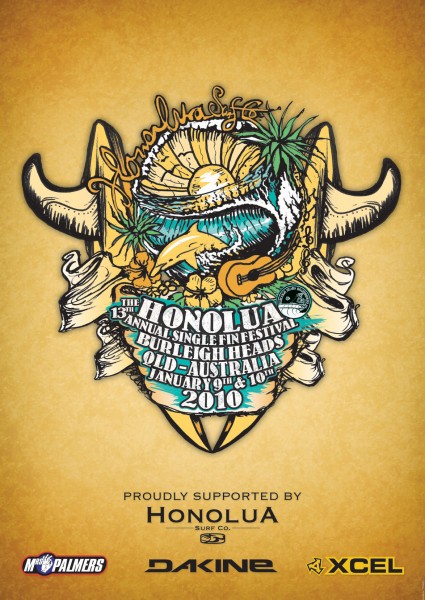 CHARITY LUNCHEON – 11AM – 4PM FRIDAY 8/01/10 BURLEIGH BEARS LEAGUES CLUB
CONTEST BURLEIGH POINT 9TH & 10TH JANUARY
EVERY JANUARY BURLEIGH BOARDRIDERS HOST THE SINGLE FIN CLASSIC, CLASSIC SURFING ON CLASSIC PRE-1981 SINGLE FIN SURFBOARDS
The event will be held on the 9th & 10th of January 2010 at Burleigh Point
check the footage from 09… pumping!!!
Once again the world famous point break of Burleigh Heads will be the venue for the 2010 Burleigh Boardriders Single Fin Classic. The event is one of the most prized on the surfing calendar, soul surfing on boards over 23 years old, some 30 years or older. Real surfing, back to the days where getting your board and going surfing somewhere with your mates was the dream tour, not contests and prize money.
The 3 day festival starts on Friday with the legendary Burleigh Boardriders Charity Luncheon, guests speakers in the past include NRL legends Joey Johns & Craig Wing, World Champion long distance open ocean paddler Jamie Mitchell, Channel 9 celebrity chef Pete Evans, and WCT surfers Bede Durbidge & Jay "Bottle" Thompson, former WCT surfers such as Occy, Luke Egan, & Matt Hoy.  Gold Coast WCT surfers are always at the lunch, plus a host of former World Tour Pros from the single fin era. A giant photography & sport memorabilia auction will also be held, charities including Burleigh Boardriders Junior Development Fund will benefit from all monies raised. This year we have Professional Boxer John Wayne Parr, Olympians Ky Hurst, Ken Wallace, Burleigh's own WCT surfer Jay 'Bottle' Thompson, and a player from the Gold Coast Titans.
BELOW ARE PICTURES OF THE GUEST SPEAKERS AND ACTION FROM LAST YEAR
The surfing action kicks off on the Saturday and surfers from all over the East Coast of Australia will be cleaning off the dust from their pre-1985 single fin surfboards from under houses or the back shed to compete for the glory of being crowned the 2010 champion.
Surfers can only surf antique "Old School" single fin surfboards made before 1985, and the weekend will see many stories from the good old days swapped amongst those at Burleigh Point. The collection of the old single fins is like a museum display, onlookers always keen to check out the many old and varied surfboards from a bygone era. Each year thousands line Burleigh Point each year to watch the action, classic surfing on classic boards from a bygone era, almost like a flashback to the legendary Stubbies Classic.
Defending Champion Paul Ward will be out to defend his title won in 2009, on an old Mt Woodgee Pintail Channel bottom shaped by Gill Glover. The Col Smith and Alan Byrne channel bottom design are some of the boards most cherished by surfers in the event. Other favourites are the old Dick van Straalen boards, and some of those boards surfed in the event were owned by late Burleigh legends Joe Engel and Mick Murphy.
2007 champion and local lad Jay "Bottle" Thompson started off a great 2007, winning the Honolua Single Fin Classic at his home break, and started the roll that saw him qualify for the 2008 World Championship Tour. The competitor's list is a who's who of surfing; Gary "Kong" Elkerton, Cheyne Horan, 2007 World Champ Mick Fanning, Bede Durbidge, Mark Ochilupo, Brenden Margison, Wayne "Rabbit" Bartholomew, Dave Rastovich, and many others regular competitors in the Honolua Single Fin Classic. Put these surfers against a field of hard core Burleigh locals and many others and you have a weekend of classic surfing on genuine antique surfboards.
click to download entry form for single fin classic
The Burleigh Boardriders Single Fin Charity Luncheon tickets are $100 per person and include food and refreshments and as always in high demand. Entries to the Burleigh Boardriders Single Fin Classic are available from Surfing Queensland (07) 55201165 or can be downloaded from the Burleigh Boardriders website www.burleighboardriders.com .
For more information:
Media
Terry "Tappa" Teece
Mobile: 0408 011 111
Event Details and Luncheon Tickets
Ash "Champ" Humphries
Contest Director
0439762018
Edward Lindores
President Burleigh Boardriders
0413 757 551
www.burleighboardriders.com
Check out some of the pictures from 2008 festivities!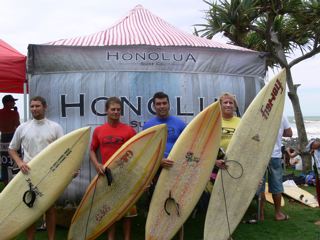 the finalists L-R Neil Nicholas, Alby Ross, Rique Smith (Winner), and Jackon Close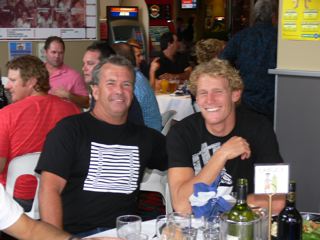 Gary "Kong" Elkerton & Bede Durbidge at the luncheon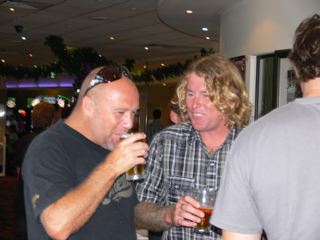 Brisso & Matt Hoy have a laugh and a beer
Freddo Lang Interviews Hoyo & Kong
Freddo Interviews Jay "Bottle" Thompson
Ugly head collection Freddo, Champ, Tappa, and "do ya think I'm sexy" Ronny Milk
Hoyo & Alby Ross