April 14th, 2008 Posted in
Profiles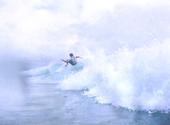 Mitch Laying into it
NAME               Mitchell Mills
NICKNAME         Millsy
AGE      16
DIVISIONS YOU SURF IN?     Juniors
PLACE OF BIRTH?

      

Sydney
PLACE OF SURF – BURLEIGH
HOW OLD WERE YOU WHEN YOU HAD YOUR FIRST WAVE AT BURLEIGH?     10
FAVOURITE SPOT AT THE POINT YOU SURF?      Sharkies
OTHER FAVOURITE WAVE SPOTS ?     Nambucca Heads, Straddie, Diggers
CONTEST RESULTS BEST OF?        3rd Cadets 2007
FAVOURITE BURLEIGH SURFER?       Bumfights and all the boys
FAVOURITE UNDERGROUND BURLEIGH LEGEND?     Dwayne and Peter Harris
FAVOURITE SURFERS, THAT ARE NOT BURLEIGH BOARDRIDERS?     Fanning and Parko
WHERE DO YOU JUMP OFF?       Stepping Stones
WORST EXPERIENCE JUMPING OFF THE ROCKS?       Getting a surge to the chest and getting sat on my arse and swept across the rocks
WORST INJURY SURFING?      Kooked it, went over the falls and copped a fin chop to the thigh.
BEST BURLEIGH MOMENT?          Getting barrelled at the point and winning a club round
BEST SURFER YOU HAVE SEEN SURFING AT BURLEIGH POINT? Bottle, Taj Burrow, Munga and Bods
AMBITION?      To go surfing and get paid for it
WHY YOU LOVE BURLEIGH?     The sick waves, all the people that live and surf here.