April 11th, 2008 Posted in
Latest News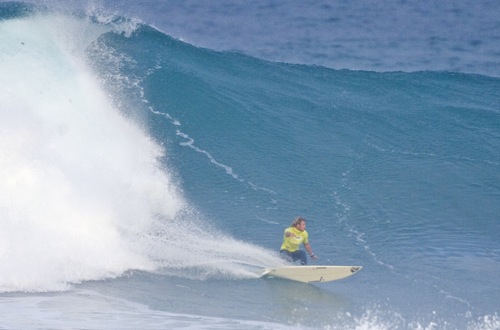 Courtesy of Surfing Australia…..
As competitors revelled in the near perfect 3-metre conditions, high scores, big moves and electrifying surfing was plentiful.
None more impressive was ASP World Tour surfer Jay Thompson (Burleigh, QLD) who accumulated the highest heat score of the event, thus far, with an awesome 17.33 (out of a possible 20).
"It's pretty solid out there today, but it was really good and fun conditions," he said.
"I didn't bring any big boards so I spent yesterday on the phone trying to scrounge around for a big enough board for my heat this morning."
Thompson, who looked extremely polished throughout his heat, said he was using the event to help regain his confidence going into the rest of the ASP World Tour for 2008.
"I haven't had the best start to the year with a pair of 17th placings. I've made a few mistakes in my heats and have been made to pay," Thompson admitted.
"I'm just using this contest to iron out any mistakes and get some good heat practice. I can't wait for the rest of the comp."
Check the webcast tomorrow to watch how Bott's goes!