October 23rd, 2008 Posted in
Latest News
Our next surfer was Misty, who cme along at the last minute call up from supercoach "Fabs", and she performed well scoring a second place in her heat to help get Burleigh on a bit of a comeback trail. Good stuff from Misty and we look forward to her smiling face down at the next club round! 
 The ever smiling Misty, and below doing her thang in the heat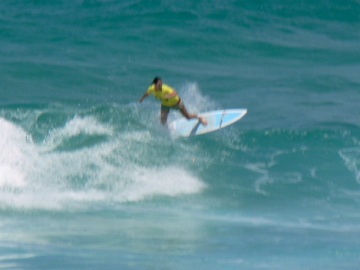 Next up was the Fishdog, Paul Fisher aka "The Survivor" who turned up at the Island after a 15km swim through shark and crocodile infested waters at the Whitsundays, after the crew he was with flipped their fishing boat out at sea and made the papers over his adventures. Before he turned up, Fabs said he fell off a fishing pier did not know which way to swim in! Amazing effort for Fisher to turn up, and when he did he ripped into it. Unfortunately he needed just one wave with the scope to get a few more cracks in, the Mudjimba surfer just getting the nod over him. The celebrity survivor with the pants with zipper always is undone surfed well. Not even sharks, crocodiles, or boat wrecks could stop him from representing. Well done Fishdog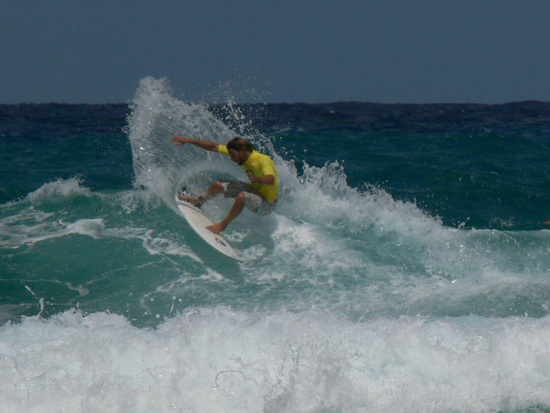 Fisher ripping it up after near death experience at the Whitsundays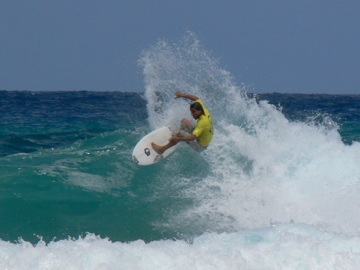 Things were looking up for the Burleigh crew after Gene, Misty and Fisher getting us into equal 11th place with Mitch and Billy to come. The conditions were getting worse though more closeouts, stronger onshore and even a bigger lucky dip. Mitch went out at the last minute on a different board after creasing his, and had a red hot go but couldn't find the waves. He placed 4th, but once again he deserved at least 3rd, the judging gods well and truly against us this weekend.
Our last heat was James "Billy" Watson, and he had Parko and some young guns and truly bad waves to deal with. Billy got one straight off the batt and cracked it, but could not find a decent second one… Billy's heart was there but the waves were not co-operating. Better luck next year, this year 13th place but we beat North End, Le Ba, and Kingcliff. Great team spirit next year we get the results!