October 3rd, 2008 Posted in
Latest News
Surf Tripping in Ghana, West Africa – The adventure continues…
– by Mike Manning
I arrived late in West Africa on the Monday night after a hell trip from Coolie to Sydney, Sydney to Jo'burg, then Jo'burg to Accra. As expected none of my bags made it to that baggage carousel in Ghana. Welcome back to Africa! So I was stuck with only the smelly clothes that I was wearing which had to last me till Thursday.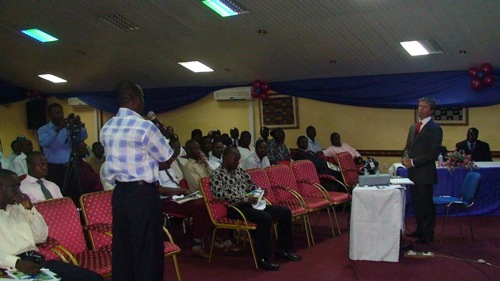 Francis Howard, the local Ghanaian who was our software reseller in Ghana, took well care of me in this situation. The first thing that we did the following day was head for the local shopping mall to buy some toiletries and underwear. We had a big launch of our software to do the following day so we also had to go and buy a replacement suit for the big opening. Francis took me to the Pierre Cardin shop and before I knew it I was decked out from head to toe in designer label clothing. I had to look good for the delegates who were coming from across the nation and neighbouring countries so Francis spared no expense for the occasion.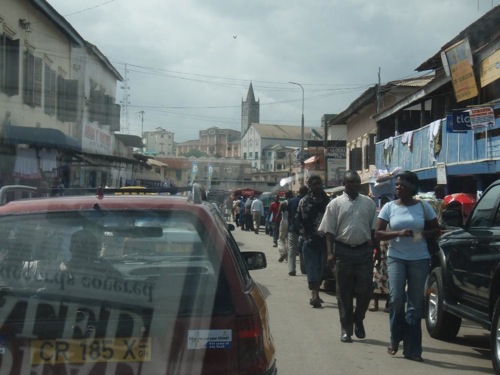 The big day came and went without a hitch. I managed to do my presentation through the jetlag and it was all systems go. The grand opening made it to the TV news that night and all the papers ran stories on the event.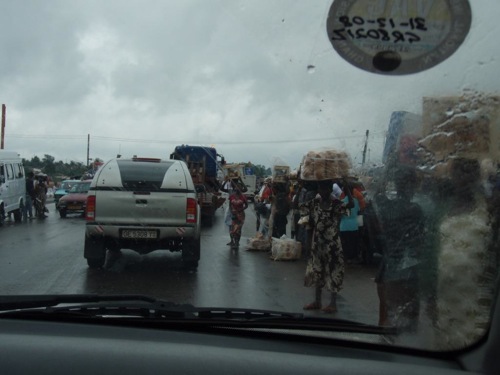 After a day of training with Francis the internet swell charts were pointing at swell activity "down the coast" at the most southern point of this West African nation. Being a country with an entirely southern facing shore the swell has no where else to go. It races up the Atlantic all the way from the Antarctic. Thousands and thousands of km of uninterrupted swell fetch. As it has so far to travel it gets cleaned up and organised into long period swells by the time it hits this coast. The Republic of Ghana is about 500km north of the equator so it has the whole southern hemisphere to travel through before it arrives here.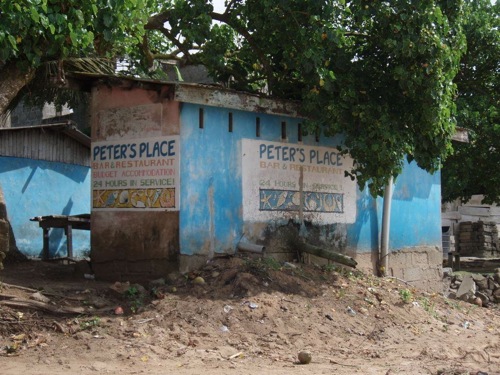 The swell report on magicseaweed had 7.5 ft at 13secs SW swell predicted for Saturday and 6ft at 12 secs SW swell for Sunday with not much action predicted after that. This meant that I had to get down the coast on the Friday, instead of only on the Saturday, so that I could get both days of surf. Francis was pretty good about it when I said that "something had come up" and that I had an "urgent board meeting to attend to". He even organised me a Toyota Land cruiser and a guide to show me the way. We would catch up again the following week and continue that training down the Coast.
After our preparations on the Friday morning Mercy (my navigator) and I set off on our journey westward to Busua Beach, a distance of about 300km, as the crow flies. Accra is a nightmare for traffic so it took us about an hour of bumper to bumper delight till we started getting some open road. They drive on the wrong side of the road in Ghana, even though it's an ex British colony. This made it even more challenging to negotiate the taxi drivers from hell. Then there are the buses, goats, cows, pot holes and street vendors. As I had a local passenger in the front seat with me which ensured that we were to be left alone for most of the journey. As I only had an Australian driver's license this was going to be the sticky point if I was going to get into any trouble with the law. We stopped off to see the police contact at Takoradi, as recommended by Francis. The gaol in the cop shop was full and there were many young crims with their arms sticking through the rusty bars. I made a good mental note not to mess with the police in Ghana. Just like anywhere in Africa, I suppose.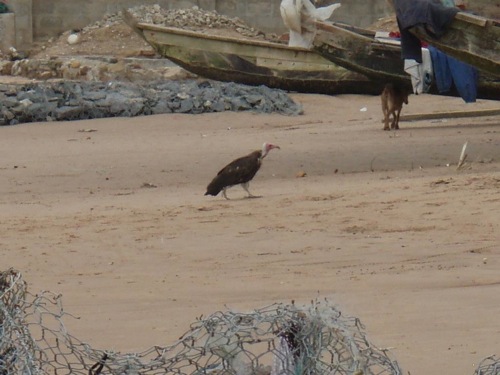 I dropped Mercy off at the next village and I was now driving the last stretch of about 30km by myself. I had barely driven another 10km when I had to go through a local police check point. Now that I had no local sitting next to this encounter with the traffic cops was a little different to the others that day. They pull me up as soon as they saw me and they got straight into the term of the bribe. I was told by one of the guys to "look after him and his 2 hungry colleagues". Having spent most of my life in Africa I was prepared for the occasion. The bribe was paid without any fuss and off I was to complete my journey. Mission accomplished. I made it to Busua beach in one piece after about a 4-5hr journey.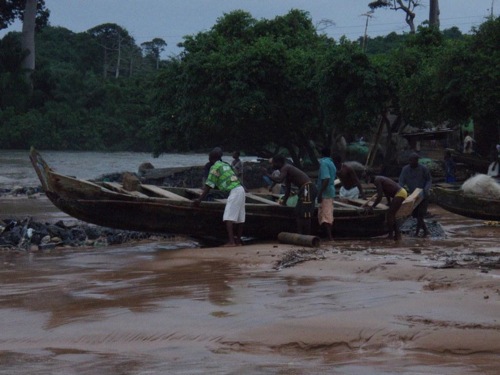 I checked into the Busua Beach Resort, which is the pick of a bunch of accommodation options. It is the most costly but has internet which is a must have for me and my work. There were not many alternatives for me to chose from and Peter's Place was definitely out (see left).
The first thing I did after checking in was to go and find out what the deal was with the surf spots. I went looking for the guys at the Black Star Surf Shop, which is the only surf shop in Ghana (and probably the whole of the West African region). These guys would be able to set me up for the waves that were set to hit that weekend. The surf shop is basically a converted container on the beach with a wooden platform out front. It's is a really cool concept. They use the platform for a restaurant so it's the spot where everyone hangs out. I caught up with Frankee, the local Ghanaian who co-owns the shop with Chris an ex-pat American guy. He reckoned that the local right hand point, known as "Black Mamba" was the pick of the spots and worked best on the incoming high tide. This spot is within walking distance of the resort so I was happy to sign off and wait for the following day's high tide, at around mid day.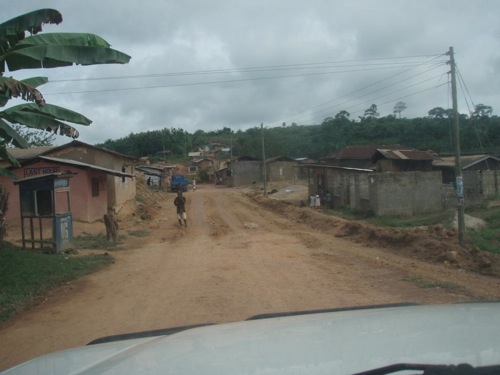 In the morning I took care of work from the hotel internet. Having accessible internet means that I can literally work anywhere in the world. I am looking forward to the day when I can get remote internet access anywhere with total independence from any land based connections. This will probably mean satellite connectivity or something along these lines. Then I could be working while a boat in Micronesia, on a land trip in remote parts of Africa or even while on the ice in Antarctica.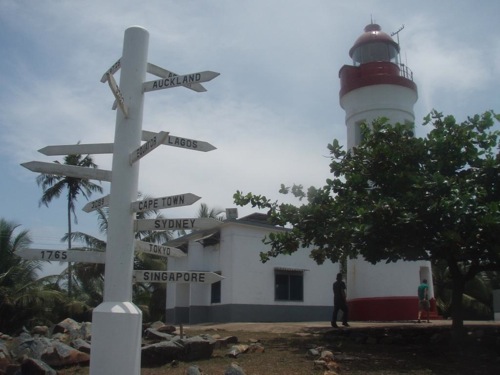 After taking care of work issues from the States, Oceania, Asia and Africa I started to prepare for the afternoon session. I first went to the surf shop to see if anyone was keen to join me. There are definitely no crowd problems over here. As I was going to surf a new spot in a very remote location I was keen for a bit of company in the water. It would be good to have someone to short circuit the learning curve associated with the break. One of the locals, an American named Matt, was out of action as he had Malaria. I made a mental note to make sure not to forget to take my Malaria pills. They get cerebral malaria here which can kill you in a few days if you are unlucky. As I had already had Malaria on a previous surf trip to Mozambique I didn't want to go through that again. Fabio, a Swiss guy, was up for a surf even though his leg was full of septic sores from infected cuts. He had had a few small fin cuts that ended up going septic from the dirty water. Put that one in the memory bank too.  I took a hike along the local right hand point to do a recce of the break. On my way there I saw something that I never thought I would ever see on a surf trip… Vultures on the beach! Real vultures. Now that's not something you will see on a any old surf trip! While I was walking along the point I was also checking out every rock for any signs of snakes. After all this spot was called Black Mamba! Not exactly a snake that you want to be bumping into anywhere let alone out here by yourself. This place had some serious omens associated with it – Malaria, Septic sores, Vultures, Black Mambas….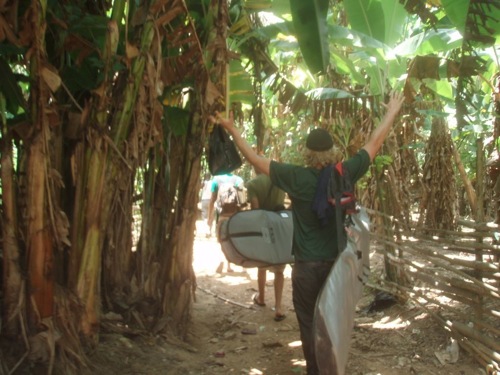 Once the tide was right Fabio and I paddled out from Busua Beach. The paddle is like going from Burleigh Beach to Sharkies. I had a few warm up waves along the way to which helped loosen me up a bit. Fabio had only ever surfed smaller waves before and he was struggling a bigger sets. His paddling was a little weak as he was from Switzerland, after all. I pushed him to go harder on the sets and he started getting into the swing of things. He ended up getting flogged a few times but he also had some of the best waves of his life. I scored some good ones and also managed to bag a few barrels. My first barrels in West Africa and also my first in the Atlantic! The swell direction was a little too straight (South) and with a little more West in it the place would be a real gem. The waves were very surfable and there was a lot more bite to them than I was expecting. Some of the waves had nice long walls which offered a great canvas to work with. We did not get any good pictures but got a few that show what the setup looks like.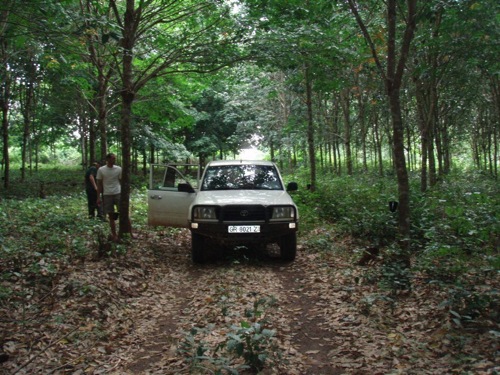 I had my 5 fin out there and it felt right at home on those long Black Mamba lines. This was probably going to be its last surf trip as it was on its last legs. I put in a nice gash on the bottom deck at G-Land and still had the sticker covering it. The board had seen a few epic places in its lifetime: J-Bay, P-Pass, Cactus, G-Land, Burleigh and Sunset so it had certainly done some good service over the years. Dale had made me another replica, which was waiting for me back home. The new board has the same 5 fin setup but we added in another fin set. So, it is a 7 fin. My previous 7 fin had a different fin placement but I broke it after only 2 surfs at P-Pass. I wanted this one to be able to be surfed as a 5 fin replica of my tried and tested model, just in case the 7 fin experiment did not work.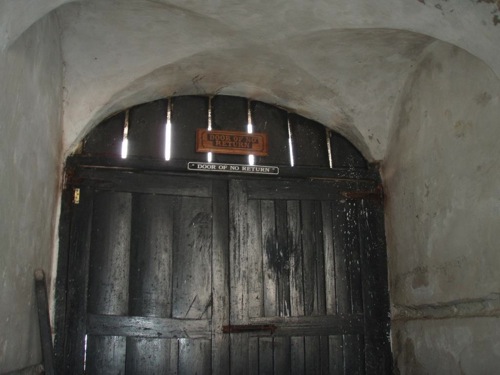 Fabio and I traded waves together for about 3 hours. Although my new Swiss friend had only been surfing for a few years it was great to see him so amped up from the session. These were probably some of the best waves he had every surfed and he was buzzing from the experience. We celebrated with a few of the local beers that night and made plans for the next day's mission.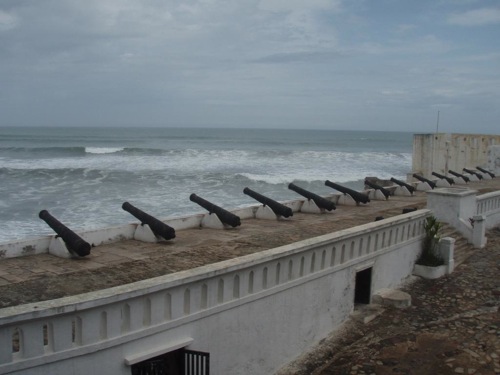 The following day I planned to do a real surf safari to Cape 3 Points. This looked like it had great potential. I had done a lot of research on Google Earth and all of the surfing web sites that had anything to say about Ghana. The researching that goes into these trips is an important part of a surf trip. It is a process that I really enjoy and is part of total experience.
I had wanted to take Frankee, the local Ghanaian, with on this trip but he couldn't make it. Sean, a guy from Oregon, and a Dutch guy were keen to come along after hearing about our session at Black Mamba. One of them had been to Cape 3 Points before so he was going to be the navigator. We had no maps and the roads were pretty bad so we needed to have someone who knew the way. I would have preferred to have had a local in the car with us as this would really have helped us out a lot.
The drive took us a couple of hours even though it was not very far away. The road had some really bad sections to it. There were sections that had huge erosion slots scoured into them, sections of potholes, and sections with deep mud slurries. We travelled through some very rural scenery. There were rubber plantations, subsistence farms, palm tree plantations, indigenous tropical forests and local village communities. Most of the villages were ok but there were a few where we got some very angry looks from the locals. There were a lot of makeshift signs put up along the way, saying "no road, no vote". The locals were very upset about the state of the road and there could have been some type of union activity going on. Whatever it was the locals were not too happy about us being there and some of them tried to stop us. There was no way we were going to stop and find out what the problem was. I'd been in too many of those kinds of situations before and knew that stopping was not a good idea. I had done many surf trips down the Natal and Transkei coasts in the 80's and 90's and had had many near miss experiences. Other surf trippers were not so lucky and some never got to finish those trips.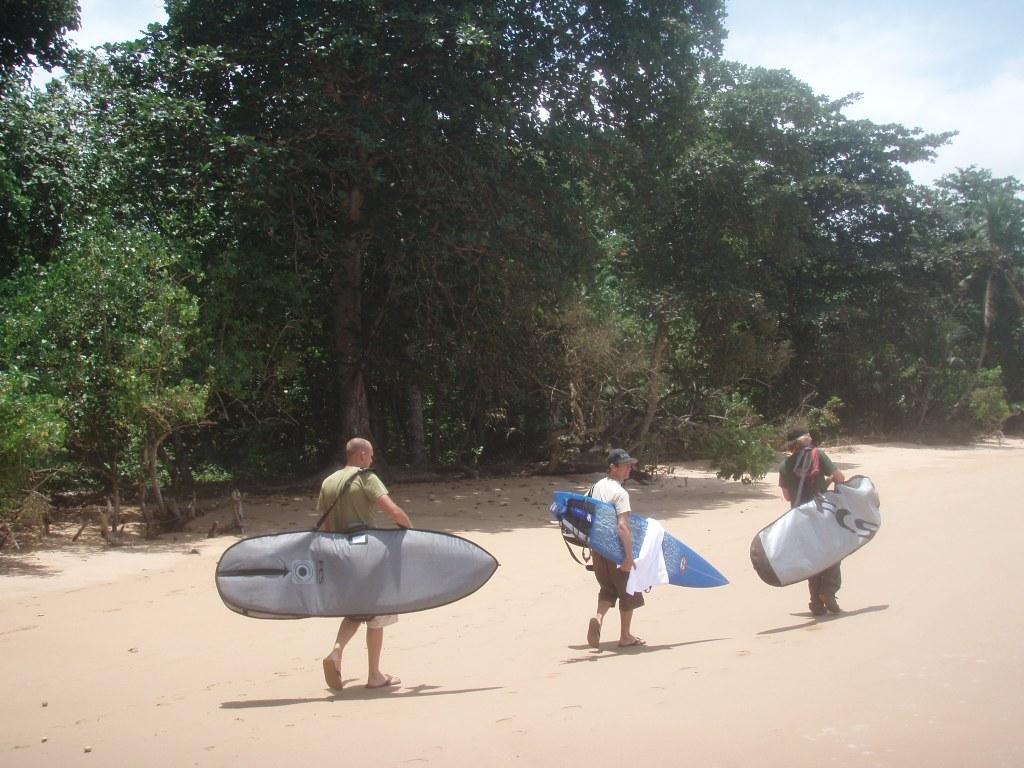 When we got to the Cape we went to the local chief's house. It is always important to visit the local chief to get their blessing with being there. He was a pretty cool guy and was happy for us to be surfing in his chiefdom. We then met up with the local lighthouse keeper, a cool operator named Charles. He took us up the lighthouse, for a fee of course, where we got to check out the coast line. The lighthouse was at the most southern point of this West coast region so it was picking up some serious swell. There were some heavy bombies out the back and I suspect that one day there will be a few tow crews heading out to have a crack at some of these spots. Charles showed us the spot where other surfers had surfed before. It looked like the pick of the many points and bays spread out before us. We headed down to the local village and walked down to the beach on a small path that led down to the beach. This path went through the village huts and then through a mangrove swamp section before ending with dense jungle that went right down to the beach. It was a surreal experience walking down this path on our way to the beach. It reminded me of that one section in "morning of the earth" where those guys are walking down that track in Bali. This one, however, was really "Out of Africa".
We walked along the beach to where we thought the waves look best. The thick African jungle literally met the beach and it was a very different look from what I had experienced before. We hid our gear in an abandoned beach hut and went out for our surf.
The water was a lot colder here as I suppose the cold Atlantic current has more effect on this Southern tip. Even though we were only a couple of hundred clicks north of the Equator the water was not a "tropical" temperature.
We had planned to surf at about the same time of day as we had surfed at Black Mamba as we had nothing else to go on. The incoming to full tide was not the right time for this place, unfortunately. The waves that we had seen from the lighthouse were getting too full so I think we blew it on our timing. That's how it works some times on surf trips. Our surf was average from my point of view. For the other 3 guys, however, it was an awesome surf. Each of these guys had only been surfing for a few years so to some of them this was the best surf that they had ever had in their lives. They reminded me of what I was like in my late teens. Those were great days and it was a good experience to be surfing with guys who were only just going through that incredible first part of the surfing journey. I have been surfing for 28 years and it was unreal to have been able to take these guys on their first real surf trip.
We took a different route back to Busua as we did not want to go back through those tense looking locals. This ended up being a big adventure as the road was really tight and overgrown in places. We had no map and had to take a few guesses at critical intersections. There were sections of this route that had some very dense African jungle in it. It was an overcast day and some of the sections looked like something out of "Gorillas in the mist". I was half expecting Tarzan to pop out of the jungle at any moment. At almost every bend there was another surprise and the theme of the trip became "the adventure continues…" We made is back safely and it ended being a memorably trip.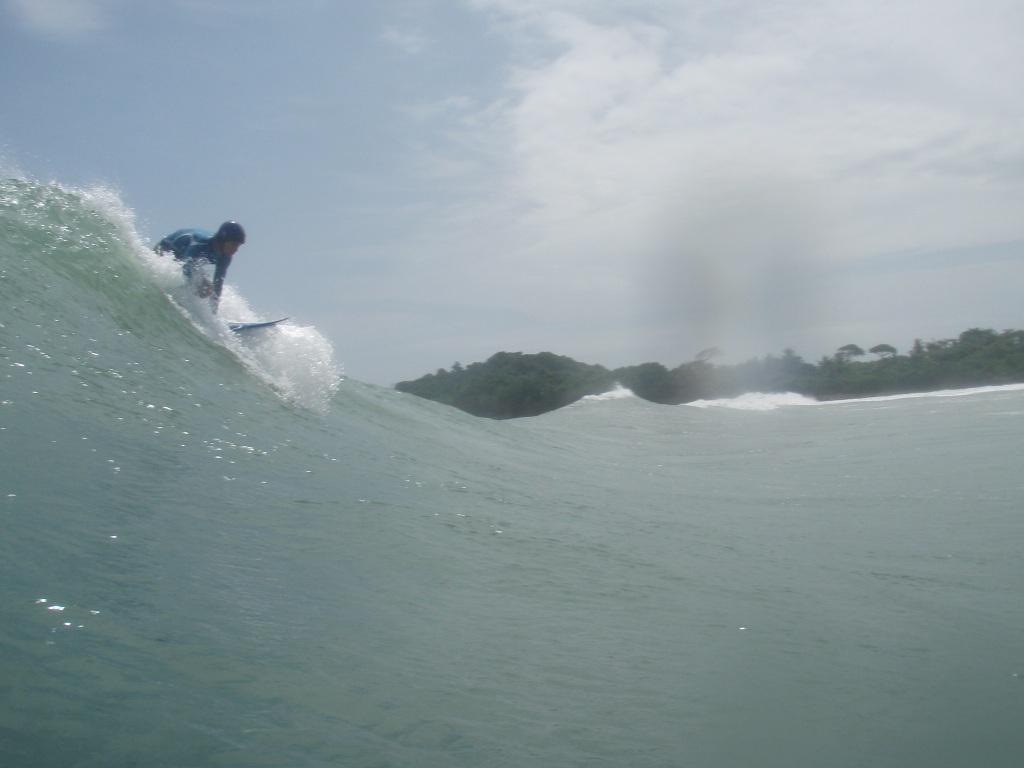 On the drive back to Accra Francis took me to see some of the sights along the coast. We stopped at 2 slave forts along the Cape Coast to experience some of the history of this part of the world. The Elmina and Cape Coast Castles were both built for the slave trade that took place between the 16th and 19th centuries. These forts were a very harsh reminder of probably the greatest catastrophe to occur in the history of mankind, where around 300 million slaves were trafficked over a period of 350 years.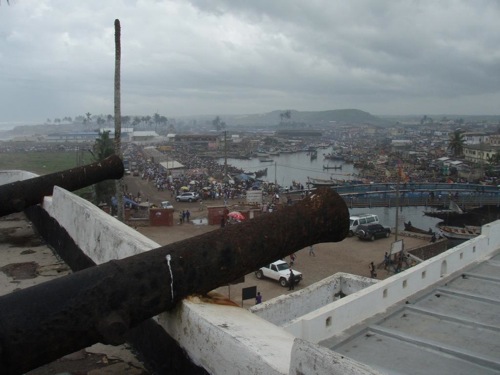 It was a very heavy experience to be in these forts and to see what these slaves would have had to endure before being exported to the "new world". I had no idea about the extent of this whole tragedy. I did not read about this in any of the history books that I went through at school. Now this is not what you expect to experience on your average surf trip. I was very fortunate to have been able to see and experience these relics of human tragedy. Hopefully it will remain etched in my memory banks as a reminder that we should never repeat these mistakes of the past.
The whole experience in Ghana was very memorable. It was one of those trips that I will never forget. It is probably not the kind of place that you would go to just for a surf trip. But if you have a good reason to head over that way it would be well worth your while to make the trip over. It would also be worth it to throw in a surf trip while you were there. There are many spots waiting to be discovered out in these parts. With the right swell direction and conditions I am sure that the surf can get very good over here. There will certainly not be any crowd problems.
The adventure continues…