July 21st, 2015 Posted in
Latest News
BURLEIGH BOARDRIDERS CELEBRATE 50 YEARS, 1965 – 2015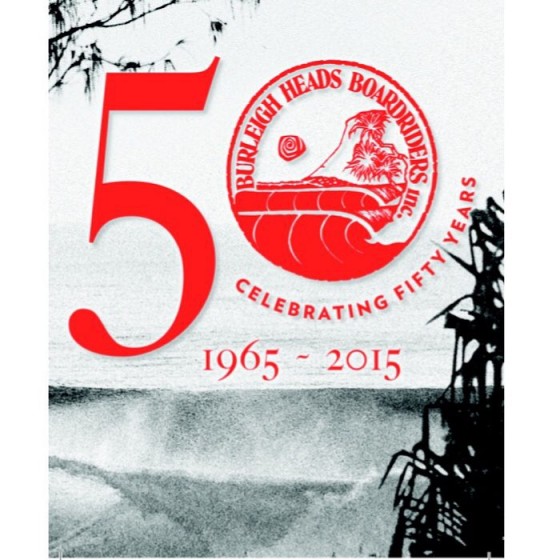 GOLD COAST TURF CLUB SATURDAY 25TH OF JULY
Burleigh Boardriders are celebrating 50 years as a boardriders club, with the Burleigh Boardriders 50th Anniversary Raceday this Saturday, 25th of July, at the Gold Coast Turf Club. Burleigh Boardriders have gathered 12 of the original foundation members of the club who will be bringing some of their 1965 club badges and other memorabilia to show off on this day of celebration of one of the Gold Coast's and Australia's oldest boardriding clubs.
The raceday will see the members who formed the club mixing with those that have made Burleigh a force in club surfing in Queensland and Australia, with a junior development and coaching program in place second to none. This has seen Burleigh compete in the National Boardriders Battle, as well as placing 2nd in Queensland in 2014.
Burleigh Boardriders will also be previewing the release of their book 50 years of Burleigh Boardriders, a pictorial and written history of the club. This will be released in November this year, with more stories and pictures added from the celebrations.
Many tales will be told, and the young and the old mix and talk about their love of surfing and Burleigh Heads. All the foundation members will be presented with medals in their honour, and will celebrate 50 years of being the caretakers of Burleigh Point.
ATTENDEES FROM THE CLASS OF '65 AND THEIR PARTNERS:
Noel and Kim Gordon
Ross and Janice Gordon
Greg and Paula Kaddatz
Margaret Kaddatz
Ray and Marie Clarke
John and Mary Nolan
John and Pam Dowsett
Greg Conlon
Greg Saul
Kerry Saul
Archie and Trish Hoogervost
Bill Hoogervost & Wendy
Bill and Gwen Ker
Alan & Bev Sykes
Not only will there be the Burleigh crew, but some of the world's best surfers fresh back from South Africa, and many other celebrities will be making a surprise appearance as well… It will be the event of 2015