December 28th, 2010 Posted in
Latest News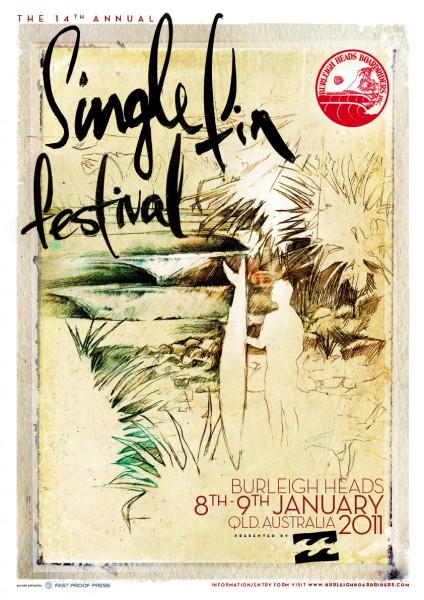 14th Burleigh Boardriders Single Fin Festival
Presented by Billabong
January 7th, 8th, 9th
Burleigh Heads
It will be a step back in time with the first surfing event of 2011 calendar, with the Burleigh Boardriders Single Fin Festival. Presented by surfwear pioneer Billabong, this event celebrates the surfing, the surfboards, and the times of the single fin surfboard era, with Billabong created in the middle of this era in 1973. The Festival consists of the Burleigh Boardriders Charity Luncheon on Friday the 7th of January, followed by the Burleigh Boardriders Single Fin Classic, presented by Billabong on Saturday 8th, and Sunday 9th January.
The Burleigh Boardriders Charity Luncheon is to be held at the Burleigh Bears Leagues Club, and confirmed guest speakers include; 2 times World Surfing Champion, Mick Fanning, Dual international footballer, Matt Rodgers, Eco-warrior and soul surfer, Dave Rastovich. The luncheon will be hosted by comedian Freddo Lang, commencing at 12pm on Friday 7th January. Tickets are $100 per person, includes lunch, refreshments, and entertainment, and are available from the reception at Burleigh Bears Leagues Club. Funds raised will go to Burleigh Boardriders Junior Development, and 4 ASD kids ( www.4asdkids.com ).
The 14th Burleigh Boardriders Single Fin Classic, presented by Billabong will be held at the iconic world famous Burleigh Point on Saturday and Sunday the 8th & 9th of January. This unique event sees surfers competing on single fin surfboards, made pre-1985, some of these surfboards over 40 years old. The event at times is like a museum display of unique collectable surfboards, 3 decades of surfboard design evolution for all to see. The surfing is an incredible sight to witness at the classic break on classic equipment. 2010 champion, 18-year-old Thomas Woods who was born in the thruster era, was blasting air-reverses and all sorts of Modern Day maneuvers, thought impossible when the single fin was king. Woods' surfboard was more than twice his age, and surfers from 11 to 50 years plus will be taking part in the event.
Surfers who have competed in this event reads like a who's who of surfing, in past years surfers competing have included; Mick Fanning, Dave Rastovich, Gary "Kong" Elkerton, Cheyne Horan, Wayne "Rabbit" Bartholomew, Jay "Bottle" Thompson, Brendan Margison, Bede Durbidge, plus a host of Burleigh locals who can more than hold their own when Burleigh is pumping. In fact Burleigh surfers have won the title the majority of the 14 years the event has been held.
Entry forms are available from the Burleigh Boardriders website (www.burleighboardriders.com), or from Surfing Queensland. Entry is $77, includes a collectable event t-shirt, and the chance to surf Burleigh Point with only 6 surfers out in the water, and the glory of being the 14th Single Fin Classic Champion.
For further information and Media Opportunities-
Media Liaison
Terry "Tappa" Teece
Secretary Burleigh Heads Boardriders
0408 011 111
Click here for entry form…