December 5th, 2010 Posted in
Latest News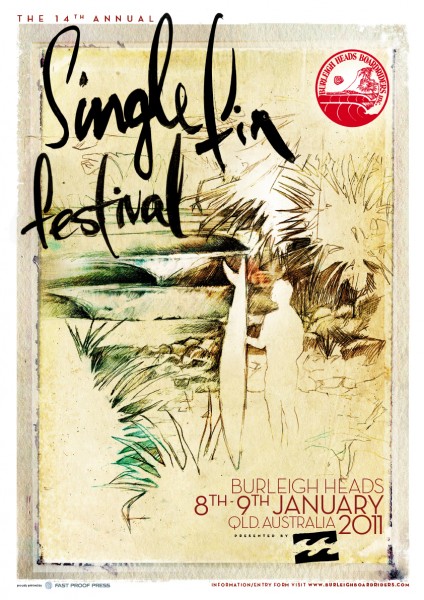 Entry forms are available now for the 2011  Burleigh Boardriders Single Fin Classic, presented by Billabong, is to be held on the 8th & 9th of January, as part of the 2011 Burleigh Boardriders Single Fin Festival.
A unique event where competitors ride single fin surfboards, that can be made n later than 1981, and celebrating the style, fun and good times of the 1970's, when the surfers like Mark Richards, Michael Petersen, Peter Townend, Cheyne Horan, Peter Harris, Shaun Thomson, and Wayne "Rabbit" Bartholomew dominated the competition at "The Stubbies" held at Burleigh Point each year..
The history of the Burleigh Boardiders Single fin Classic is a rich one indeed, just like the History of Burleigh Boardriders, formed in 1965, and going from strength to strength today. The winners and competitors list is a who's who of surfing with names like Mick Fanning, Jay "Bottle" Thompson, Dave Rastovich, Wayne "Rabbit" Bartholomew, Gary "Kong" Elkerton, and last years Champion Thomas Woods are some the surfers that have competed in the event over previous years. Antique boards, legends of surfing at one of the world's best waves ensures that the field of 96 surfers fills up each year.
Billabong have come to the party presenting the 2011 Single Fin Classic, and continuing their long term link with Burleigh Boardriders which started in 1973, with the creation of the brand, and Burleigh continues to be home of the surfwear giant.
There is no prize-money, just prizes of a unique Honolua Single Fin Surfboard and the glory of being crowned champion of the first and one of the most prestigious events of the surfing calender..
Download the entry form by clicking the link below…
Also as part of the Burleigh Boardriders Single Fin Festival, is the 2011 Charity Luncheon, to be held on the 7th January at Burleigh Bears Rugby League Club. At present we have MC Comedian "Freddo" Lang, Dual international Matt Rogers, also his partner and star reporter for the Matt John's show, Cloe Maxwell, plus other guests, (a couple of special ones) yet to be announced. Tickets are available from the Burleigh Bears Leagues Club, or other outlets to be announced….
Stay tuned for more news to come………….