June 19th, 2010 Posted in
Latest News
The Burleigh Boardriders Junior Team announced Burleigh is here as a force for the future taking out Ransom Surftag, taking down Snapper Rocks in the final. Team 1 took out the event (Thomas Woods,Hamish Whillians, Josh Hyland, Sam Robinson,  & Jed Denison) from Snapper with a great performance from all the lads. Team 2 ( Byron Hoskins, Kane Stone, Lachlan Evans, Talon Guest, Oliver and Ruben Botha) surfed well, just missing out on the semi-finals by only a few points and nearly taking Kirra down.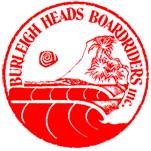 THE TEAM!
Overall it was a great by all involved, a big thanks to Craig Whillians backing the lads 100%, Jesse Outram who helped coach the boys, plus all the club members who came down to support the team. A great club effort!
WE ARE RED WE ARE WHITE WE ARE F***KING DYNAMITE!!!
WHO ARE WHO ARE WHO ARE WE?
WE ARE THE CREW FROM BURLEIGH!!!!
Pictures will follow!!