June 4th, 2010 Posted in
Latest News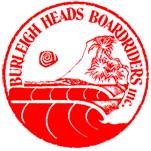 This Sunday will see the next round of the Burleigh Boardriders Club Championship with all divisions being held.
Competitors are to meet 7am at the point.
All juniors please note, that the Jay Carter Jumior Tag Team contest is on soon, and performances in the club round will be taken into consideration for places in the team.
See you there!!