June 2nd, 2010 Posted in
Latest News
Bring one, bring all. This Saturday night June 5th we are hosting a Red and White Charity Night at The Cavern(Gold Coast Highway) Nobby's Beach. Starting at 7.30pm it's $5 on the door and there will be raffles, auction's (i think) and  some giveaways.
We're raising money for the club(with most of it going to the juniors) and our mate Dane'Santy' Parviainen who need's all the support he can get!
Let's all get together guys and have a hell night and raise some money for our club and mates! Yeeewwwwwww
We also have a club round the day after so there should be a few sore heads and hopefully we should have some waves.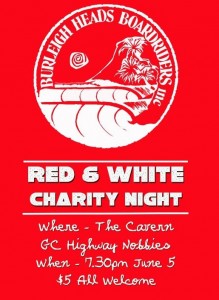 If your Under 18 come early with your parents or guardian.