September 2nd, 2008 Posted in
FBI
Said goodbye to Joel and Simon at lunch-time today,got a lift down to Bingin with then as they were getting driven to the airport.They got a parting shot of Impossibles as they went over the Padang bridge,3-4ft lines reeling down the reef!!!!
Some small kegs this arvo,still fun,my back is still a bit dicky so a couple of days out of the water hangin' with the missus will be the tonic!!!
Saw Moroochydore lifeguard Wes this arvo,been having some great seshes with him,he got axed yesterday at "Greedies",the end section of Bingin-the result is a dislocated elbow,broken wrist,alot of scars and a plaster cast for the next 6 weeks!!!Anyone who claims Bingin is soft just needs to see Wes's injuries to realise it'll really smack you if you don't respect the place!!!!
I've been surfing Indo for nearly 25 years and the amount of people I've seen get smashed at Greedies is probably more than I've seen at the Suck,Scars,Deserts,Ulu's and G-land combined!!!!
Wartsy,Tim and crew are due back in Bali tomorrow,don't think they got much at Lembongin.
A couple of the boys arrived back at the house from Desert's today claiming a total hoax-2ft,one set of 3 waves every hour,80 guys out,6 guys on every set,a couple of scuffles,the only highlite was Christian Fletcher rolling his kijang when he tried a hand-breaky in the car park!!!!!
Definately made the right call hangin' in Bali,but there's always that seed of doubt,but the memory of my last wave at Desert's at the begining of the month will hang with me till next year!!
A good west swell is due Sunday/Monday followed by a south swell,not to big,plus with the tides out of wack for the Point and Suck and the wife being here,Bali will be the place to be anyway!!!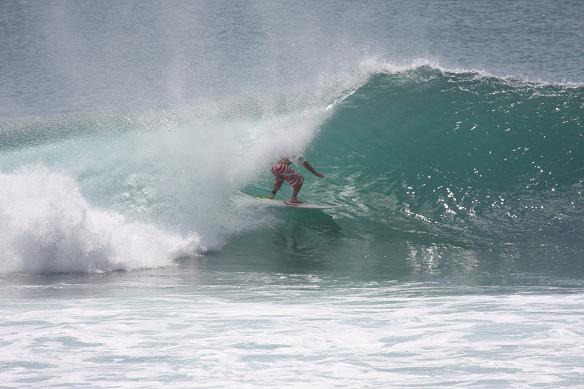 Chow  Stench