April 14th, 2008 Posted in
Profiles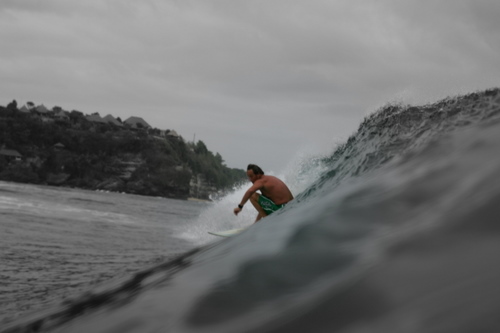 JD Charging at Bingin 
NAME        John Denison
NICKNAME      Sarge & JD
AGE         52 years
DIVISIONS YOU SURF IN?      Grand Masters    
PLACE OF BIRTH?          Harrogate, Yorkshire, England
PLACE OF SURF – BURLEIGH
HOW OLD WERE YOU WHEN YOU HAD YOUR FIRST WAVE AT BURLEIGH?     18 years old
FAVOURITE SPOT AT THE POINT YOU SURF?     Out in front of VT Rock.
OTHER FAVOURITE WAVE SPOTS ?    Bingin ~ Bali, Angowrie, Duranbah, West coast of South Australia
CONTEST RESULTS BEST OF?     1972 – Open Club Champion, Parsons Beach Boardriders, South Oz!  Those were the days…
FAVOURITE BURLEIGH SURFER?   The one and only Jed Denison.
FAVOURITE UNDERGROUND BURLEIGH LEGEND?   Jeddo again!
FAVOURITE SURFERS, THAT ARE NOT BURLEIGH BOARDRIDERS?

  
Taj Burrow, Jerry Lopez, Reno Abellera
WHERE DO YOU JUMP OFF?   Stepping Stones
WORST EXPERIENCE JUMPING OFF THE ROCKS?   Too many to mention
WORST INJURY SURFING?   Duck diving into the nose of my board (as you do) and receiving 18 stitches to my face!
BEST BURLEIGH MOMENT?   Early morning surfs are always BEST moments.
BEST SURFER YOU HAVE SEEN SURFING AT BURLEIGH POINT?

  
Taj Burrow
AMBITION?   To win lotto, stop working and go surfing.
WHY YOU LOVE BURLEIGH?     The friendliness of the locals, the cosmic-ticity of the Point and surfing the World-class right-hander!